Ancient Romans had aptly called Rome as the 'Eternal City,' because they believed that Rome would always be everlasting, no matter what happens to the rest of the world. The remarkable archeological sites and monuments, makes Rome one of the most visited cities in Europe. The best way to experience the art and architecture of monuments is by doing most of sightseeing on foot.
If you are traveling to Rome for the first time, then remember that Rome is an exciting and beautiful family destination, which cannot be completely explored in a couple of days. You should plan your itinerary in such a manner that you keep at least 4-5 days for exploring the structures, monuments, ruins, and food of Rome. Keep reading this Rome travel guide entirely so that you get the most out of the city in a short duration.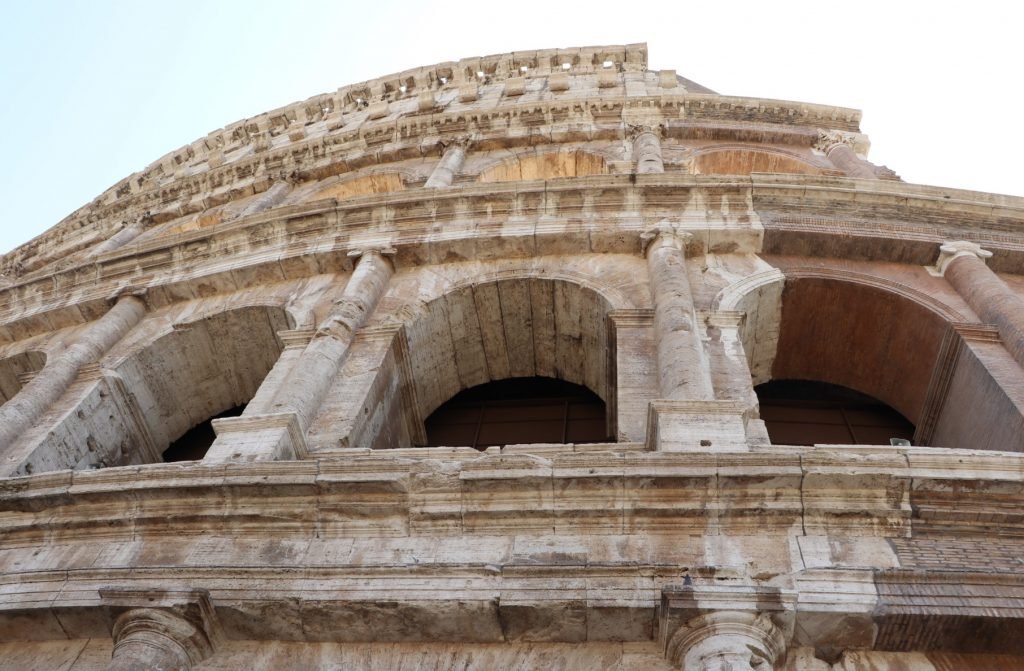 You can plan your travel to Rome at any season as it is filled with tourists for the entire year. Autumn and spring are the busiest seasons, whereas in winters you will find lesser crowds. The month of August will be extremely hot so plan accordingly if you cannot take the heat. Personally I was in Rome during August so you can read my story and decide. The most pleasant months to travel are April, May, and October.
History Of Rome:
Before you plan your expedition to Rome, a bit of knowledge in its history would certainly enhance the entire trip. Ancient Rome was founded in 753 BC by Remus and Romulus, the two brothers and demigods. According to legend, there was a dispute between the two brothers in context to who would rule the city. This argument ended when Romulus killed his brother Remus. Subsequently, he named the city after himself. However, this is not the only theory that has been mentioned in the legends, so it is difficult to claim its accuracy.
On the banks of the river Tiber, Rome has been ruled by seven kings. The Greek colonies bought in Greek culture, which made the people learn the basics of architecture. The Punic Wars between Rome and Carthage helped Rome to grow in prestige and power. However, increase in wealth lead to lot of corruption and greed among the Romans. In the year 27 BC, Augustus Caesar became the first Emperor of Rome and thus began the history of Roman Empire.
What To See In Rome?
Vatican City:
Although Vatican City is the smallest country in the world, it attracts millions of tourists each year. You will find some of the best Rome, Italy attractions in here like the St. Peter's Basilica and Square, Castel Sant'Angelo, Sistine Chapel, Vatican Museums, among others. Your trip to Rome would be incomplete without visiting the Vatican Museums. If you want to enjoy to the fullest at the Vatican Museum then ensure that you purchase 'skip the line Vatican' ticket and reach as early as possible so that you can avoid the crowds.
Some Of The Treasures That You Can See In Vatican Museums:
The Gallery Of Tapestries
Sala Matisse
Raphael Rooms
The Gallery Of Maps
Pio Clementino Museum
Some Important Things To Know For Visiting Vatican Museums:
The Vatican entrance tickets costs 16 Euros. Discounts on tickets are available for students and children. If you buy tickets online then you need to spend extra 4 Euros on each ticket.
The timings from Monday to Saturday are 9am to 6pm. On last Sunday of the month, you can visit between 9am to 2pm.
The Vatican entrance fee ticket is free on last Sunday of the month.
The Vatican Museum attracts huge crowds so it is better to purchase entrance tickets online so that you can save time from standing in long queues.
Photography is allowed inside the museum. However, flash photography and tripods are restricted.
There are some clothing restrictions too as shorts and hats are not allowed. Also, your shoulders and knees should be covered properly.
It is advisable to follow Rome travel guide properly, so that you can comprehend the history of Rome and its rich art easily. You can even book the two hour group tours that cost 32 Euros. Ensure that you get a discount, if you are traveling with children and students. The price for the group tour includes the entrance ticket fees for the museum.
Your next stoppage in Vatican City should be the St Peter's Basilica, which is one of the holiest and largest Catholic Church in the world. It is a mesmerizing renaissance structure that has been designed by renowned architectures like Michelangelo, Bramante, and Raphael. At the top of the colonnade, you will find beautiful carvings of 140 figurines that comprise of various saints, and it took about 41 years to complete these fascinating statues.
At St Peter's Basilica, you have to climb about 491 stairs to reach the top of Michelangelo's dome. Just to warn you; the climb is not going to be an easy one as the staircase is so narrow that there isn't any place for railings. So, you need to hold a rope while walking through there. However, if you are not so adventurous then you can even consider taking an elevator that will save you from climbing approximately 170 stairs.
Some Important Things To Know For Visiting St. Peter's Basilica:
You do not have to buy tickets for entry to St. Peter's Basilica.
The timings are 7am to 6:30pm each day. However, the timings change some days when an event is held.
To save yourself from spending time in the lines, go early.
Shorts and hats are not allowed to be worn. Also, your knees and shoulders should be covered, so dress up accordingly.
Each day, 90 minute tours are available for free of cost. You can acquire more information on the same from the Tourist Information Area.
Do not carry large bags as it is not allowed inside.
Castel Sant'Angelo
The Castel Sant'Angelo is an extremely complex monument located in Rome, Italy. Originally, it was a mausoleum for Emperor Hadrian and his family. Gradually, it became a citadel, palace, and then turned into a museum. Tourists usually visit the area to view its mesmerizing structure that is incredibly well-preserved as well as the antique military weapons, pottery, and renaissance paintings that are exhibited in the museum.
Trevi Fountain
The Trevi Fountain is one of the top attractions in Italy, Rome that attracts visitors day and night. This world famous fountain is a hit among tourists because; when someone tosses a coin into the fountain then it will guarantee a return to Rome. Each day, about three thousand Euros worth of coins are obtained from the fountain, which are used for charity.
Pantheon
Walking a little further from the fountain, you will reach the Pantheon, which is an incredible 2000 years old structure. It is one of the best preserved ancient Roman monuments till date. In the year 609 AD, the Pantheon was transformed into a church, which is probably the reason for it remaining intact with all its beauty and splendor. Today, the church is dedicated to St. Mary of the Martyrs.
Colosseum:
On your visit to Rome, ensure that you keep an entire day or two for the Colosseum. It is the largest amphitheater in the world and was built by the Emperor Vespasian. Made up of stone and concrete, you are certainly going to fall in love with this amazing wonder of the world. The structure has 80 entrances and can accommodate thousands of visitors at a time. Earlier, there were brutal events held in the Colosseum by the emperors and during certain games about 10,000 animals were slaughtered in a day.
Ancient Romans had free entry to the Colosseum for watching the events. They were even provided with free meals. Today, the Colosseum attracts innumerable tourists every day. The entry ticket that you buy for the Colosseum will include entry to the Roman Forum and Palatine Hill. As it is difficult to cover the entire area in a day, the entrance ticket stays valid for two days. So, you can cover all three attractions in two days. However, ensure that you purchase a 'skip the line colosseum' ticket so that you can avoid the queues.
You can get a glimpse into the dawn of the ancient Roman Empire by walking around the Roman Forum. However, most of the ancient structures have turned into a mass of ruins. The earliest ancient monument was built in the sixth century BC. Previously, the Forum was a marketplace and was then converted into a gathering space for criminal trials and gladiatorial matches. In the Middle Ages, it was abandoned for several years and buried under the layers of earth. Few temples were converted into Churches and were well-preserved.
In the year 1898, the excavations began for the Roman Forum, which is the reason you can now explore a beautiful monument. In case the ticket kiosk has long queues at the Colosseum, then it is recommended to buy the tickets at the Palatine Hill entrance as the crowd is less over there. A word of caution here is that the Roman Forum has very less shade and it is a huge area to cover, so don't forget to carry lots of water and juices to keep your body hydrated.
Ara Pacis And Corte Suprema Di Cassazione:
The Altar of Peace or the Ara Pacis was built in 13 BC to celebrate the return of Emperor Augustus. The entire structure has been built by white marble, which showcases the magnificent Roman sculpture. In the year 2006, a new structure was built to house the Ara Pacis, which was designed by Richard Meier that displays new and old architecture.
The altar lies in the heart of the monument and the walls surrounding it are decorated with embellishments that symbolize harmony, fertility, and prosperity. There are several figures of priests carved on the altar, which highlights the victory of Roman civilization.
You should add the hugely impressive Corte Suprema Di Cassazione (The Supreme Court of Cassation) in your itinerary to Rome. As it is the highest court of Italy, a sentence confirmed here is final and definitive, which cannot be appealed further for the same reasons. The baroque style of architecture makes Corte Suprema Di Cassazione one of the most attractive structures in the entire Rome.
Things To Do In Rome, Italy So That Your Trip Becomes A Memorable One:
Take lots of pictures and videos so that you can cherish them later.
Buy 'skip the line' tickets and save time that would otherwise be wasted by standing in long queues (estimated wait time is about 1hour).
Carry lot of fluids and snacks as there are some places that do not have air-conditioners and food stalls.
Whether you are on a budget or want to spend lavishly, the Rome travel guide can help you in planning your travels, so use it at all times.
You need to walk a lot in most of the places as they are grouped together. So, ensure you are well-prepared for it by wearing comfortable shoes.
Take an empty bottle of water with yourself as there are many places where you can get unlimited free cold water (even sparkling).
There are great shopping areas all over the city so ensure you pick some beautiful souvenirs as a memory of your trip to Rome.
Traveling In Rome By Metro:
The quickest way to explore Rome is by traveling in the Metro. You can even use the bus and taxi services; which are convenient too. Before boarding a bus or metro, make sure that you purchase the tickets. It is easy to acquire tickets as they are available at newspaper stands, tobacco shops, ticket windows that are dedicated for metro, automated ticket machines, etc.
The tickets are same for all modes of transportation; however, you need to validate it by inserting them in the validation machine, before beginning your trip. The tickets are considered to be unused until you validate them. So, you can purchase several tickets at a time and use them as and when required. After validation, ensure that you keep the ticket safely at all times because if you are caught by a ticket controller, then you will have to pay a fine for traveling without tickets.
The tickets are based on the number of hours that you need to travel. For instance, if you want to travel for less than 100 minutes then you can buy the 1.50 Euro ticket. This is a single ticket ride that can be used in buses or metro. The 24-hour ticket is available for 7 Euros and is valid for unlimited rides in buses and metro. Similarly, the 48-hour ticket costs 12.50 Euros and 72-hour ticket can be purchased for 18 Euros. If you are planning to stay in Rome for more than 3 days then it is better to purchase a one-time ticket that is valid for 72 hours. This will save your time and efforts in buying traveling tickets every now and then. Remember that children below the age of ten ride free.
Traveling In Rome By Renting A Car:
You can even plan to drive in Rome by renting a car. However, if you are not a European citizen then you need to acquire IDP (International Driving Permit). Ensure that you are traveling with a valid driving license. In case you need help on the road, then dial 116 from any phone to the Italian Auto Club. They provide 24/7 assistance for roadside emergencies.
Just in case there is any kind of medical emergency, then you should dial 113 for quick help. A word of caution is that there is a lot of parking issues in Italy so while renting a car, be prepared for encountering several problems. Alternatively, you can just hire a taxi and enjoy the mesmerizing views while relaxing at the back seat.
Traveling In Rome By Bus:
You can get on the bus either from the front doors or the back doors. To get off the bus, you need to use the middle doors. There are few seats in the front of the bus that have been reserved for handicapped and elderly people. The validation of the bus ticket can be done by putting them into one of the three machines that are available in the bus. In case your ticket is not valid, the machine will beep. The most popular places will always have buses full of people, so keep that in mind!
Traveling In Rome By Hiring A Taxi:
Every taxi will have a taxi meter and will charge fares as per the regulations set by the municipal. The official Rome taxis are white in color and can be easily identified with the code mentioned on the door. The day fare is lesser in comparison to the night fare. Also, on Sunday and holidays, the fare is different. You can book the taxis by dialing 06.4994 / 06.5551.
Where To Stay In Rome?
Some of the reputed hotels that you could book for your stay have been mentioned below:
Hotel Otium Rome: It is a 3-star hotel located 1.5 km away from Vatican in a calm place. The metro is just 50m away and this is a budget friendly hotel which we chose personally.
Rome Hotel Esposizione: It is a 3-star hotel, which is located near the Altar of the Nation monument in Piazza Venezia.
Rome Hotel Marconi: If you are planning to travel by metro, then you can consider staying in this hotel as it is very close to the main railway station termini.
Best Western Blu Hotel Roma: It is located within walking distance from the Tiburtina railway station.
Rome Hotel Degli Imperatori: It is a 4-star hotel that is located near Rome's main highway. So, if you are planning to rent a car then you should consider staying in this hotel.
K. Place Roma: It is a stylish 5-star hotel with cozy rooms, library, and mini-bar, among others. One day room cost is quite expensive, so it certainly is not for those traveling on a budget.
Palazzo Manfredi: It is a luxurious 5-star hotel that is located close to the Colosseum. The glamorous décor, mesmerizing views, and royal treatment will surely make the stay worthwhile.
Mario de'Fiori 37: If you are looking for cheap hotels in Rome, then you should check this one out. It is situated in the heart of Piazza di Spagna and costs about 120 Euros for a double sharing room.
Residenza Torre Colonna: Although the hotel consists of only five spacious rooms, the ambience of the hotel will make you fall in love with it. The roof terrace provides amazing views of Trajan's market.
Mouth-Watering Delicacies Of Rome:
Relishing the classic dishes of Rome is as essential as visiting Colosseum and other monuments. So, when you are in Rome, don't forget to savor the below-mentioned scrumptious cuisines:
Amatriciane Pasta: One of the most popular places where you can get the perfect hot and saucy amatriciane pasta is at Da Enzo, which is located on the outskirts of Trastevere.
Cacio e pepe: To enjoy a creamy cacio e pepe, you should visit the Flavio al Velavevodetto located inside Monte Testaccio. Cacio e pepe is a pasta dish that mainly consists of cheese and pepper.
Carciofo alla giudia: It is a famous appetizer that is made up of artichokes, which are deep fried twice to make it crisp and nice. You should try out this wonderful dish by visiting Ba'Ghetto restaurant that is located at Via del Portico d'Ottavia.
Thin crust pizza: Pizzeria Da Remo is famous for its crisp, thin crust pizza across Rome. Located at Piazza di Santa Maria Liberatrice, it has long-standing queues so ensure that you reach early. Some more popular dishes at Pizzeria Da Remo are fried arancini, wood – fried pizza, and croquettes.
To conclude, Rome has a vast collection of historic artwork and you are sure to get amazed by its beauty, art, and sculpture. It is difficult to understand everything without the help of locals or some Rome travel tips. In most cases, a tour guide is not an option, and can increase your travel budget too. So, it is highly recommended to explore the beauty and grandeur of Rome by using this Rome, Italy travel guide. It will ensure that you exactly know the numerous things to do in Rome, Italy and cover the top attractions to visit, best dishes to eat, and stay. Have a safe and enjoyable trip!
If you want to know my own adventures in Rome then you can read it here – 4 Days in Rome and if you are excited to know about other Italian cities such as Rimini and Bologna feel free to read them.