Agadir is a beautiful city in Morocco that attracts millions of travelers each year. Explorers enjoy spending their holiday in Agadir by swimming and surfing in the amazing beaches, taking a camel ride, trekking up to Paradise Valley, walking around Kasbah fortress, and much more.
Kids, as well as grown-ups, can have a wonderful time in this mesmerizing city. If you are planning a trip to Morocco then you should add Agadir in your itinerary. By reading this article, you will get to know the various things to do in Agadir, and will surely get attracted to visit this fascinating city.
The city of Agadir is famous for its Argan oil as the Argan trees are grown only in the south of Morocco. This makes Agadir argan oil expensive and precious. Argan oil is good for hair as it helps to combat dry, damaged, and weak tresses. Agadir argan oil shampoo helps in restoring softness of the hair and makes it strong and shiny. Travelers usually buy several bottles of Agadir argan oil as well as shampoo to take back home as a gift for their loved ones or for personal usage.
History Of Agadir
In the year 1960, a huge earthquake had devastated the entire city of Agadir and killed thousands of people. Agadir earthquake hit at about midnight on 29th February 1960, which followed with a tsunami and another powerful aftershock. Within a short span of time, the entire city was reduced to ruins. After a few months, excavations of the disaster began and the foundation stone of a new city was laid. Gradually, Agadir was built again, which now boasts of innumerable shopping malls, wide avenues, modern hotel infrastructures, leisure clubs, amazing residential structures, and much more.
Things To Do In Agadir
Crocoparc
Situated on the outskirts of Agadir, Crocoparc is a wonderful park that is filled with more than 300 animals and most of them are reptiles. It is a perfect place to visit with kids as they will enjoy spending their time with these impressive creatures. The entrance of the park itself will make them excited as you need to enter through a huge mouth of crocodile.
There are several information signs marked on the routes so that you can observe the daily activities of the reptiles easily; like lazing, bathing, eating, etc. Other than various reptiles, there is a beautiful botanical garden that consists of over 300 species of exotic flora from around the globe. The fragrances of various flowers will take you to a completely different world. In addition, the Cactus Garden, Monkey Bridge, amazing waterfalls, and treasure caves will keep you occupied for the entire day.
Located in the town of Drarga, Crocoparc is open every day from 10am to 5:30pm. However, the timings change in the months of summers as it stays open until 9pm. Entrance ticket to the park costs 75 Dhs per adult and 45 Dhs per child aged 3 to 12 years. There is something for all ages to explore at the Crocoparc, so you should add it to your schedule.
Paradise Valley, Agadir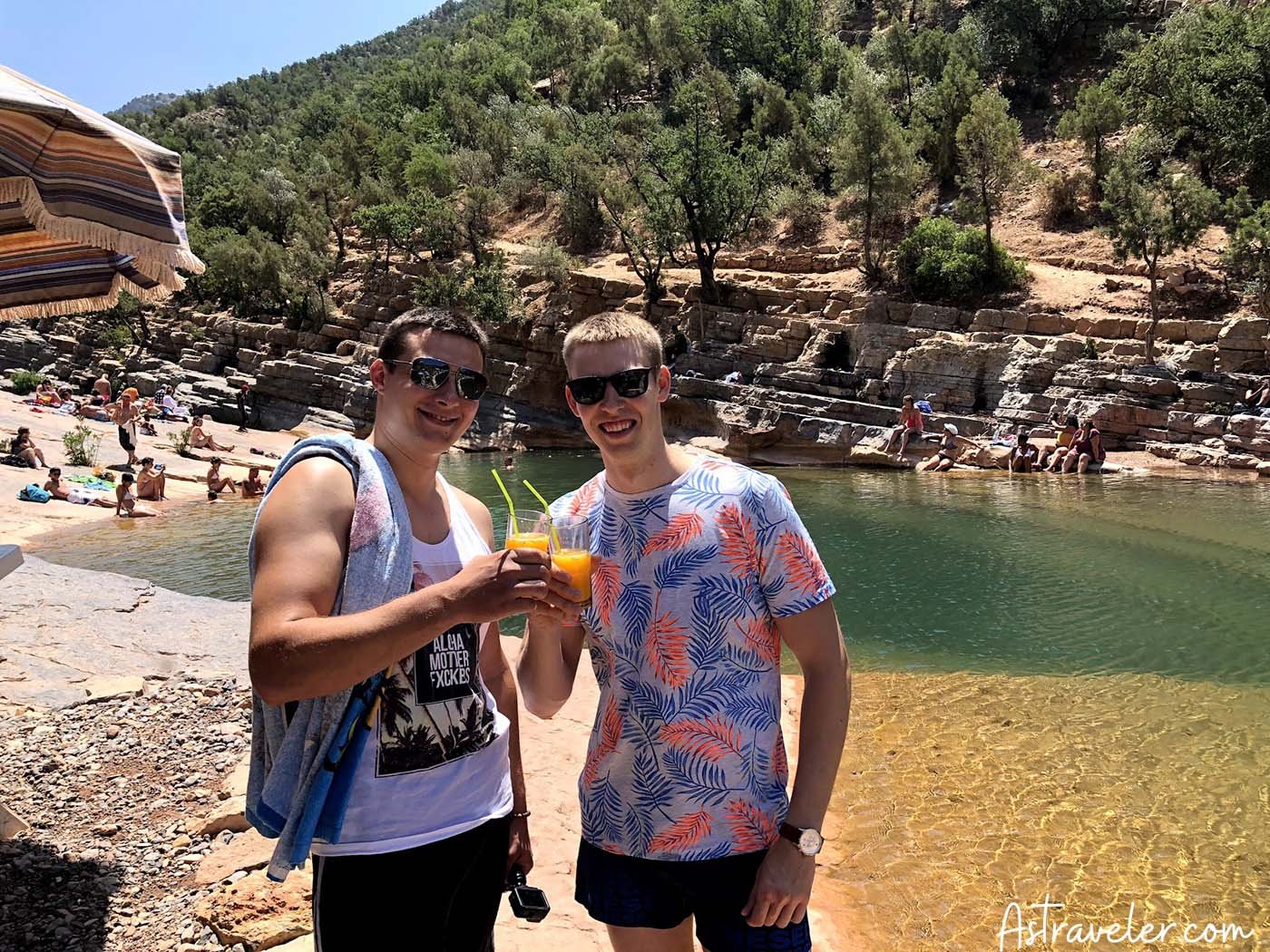 If you want to spend an entire day hiking, plunging into the water, and enjoying the scenic beauty of the mountains, palm trees, and waterfalls, then you should visit the Paradise Valley, Agadir. As the name indicates, you will feel as if you have reached a paradise! However, ensure that you visit the place in spring season when the pools and waterfalls are full of rainwater because rest of the time, the water gets dried up or is used for irrigation, anyway for both occasions water shoes is great idea. You will find several locals and visitors at the valley especially on weekends. So, if you want to avoid the crowds then it is better to travel on a weekday.
It is about an hour's drive from Agadir and you can reach the Paradise Valley by hiring a car or book for a day trip with any online tour providers. Renting a car is also a great option if you are not afraid to handle the crazy traffic. As you will be able to enjoy the entire way up to Paradise Valley. On your way, you will come across Banana Village, several Argan Oil showrooms and roadside stalls. Alternatively, you can even use local buses to reach Paradise Valley. There are several buses from Agadir that pass through Tamraught to reach the place.
Paradise Valley is a little getaway that will provide a good switch over from swimming and surfing in Morocco. The mesmerizing views of the mountains and waterfalls will make you fall in love with this beautiful city. Moreover, when you get tired, just visit the stalls nearby that sell authentic Moroccan cuisines for some relaxation and snacks. So, don't miss visiting Paradise Valley while on your trip to Agadir!
Camel Ride In Agadir
Camel ride in Agadir is often booked by travelers as they want to enjoy the journey through the dunes and mountains on camels. There are several online tour operators who can book a wonderful 1-hour, 2-hour, or half day camel ride as per your preference. However, I wouldn't recommend taking for than 1 hour as it gets a little tiring later on. Ensure that you wear comfortable clothing and don't forget to wear sunscreen and a hat. The spectacular sights of the city and mesmerizing sunset would certainly make your holiday a memorable one. Moreover, if you are a bit hesitant to sit on a camel, then you can instead choose a horse and have a similar experience as horse ride in Agadir are equally famous.
Beaches In And Around Agadir
Most of the vacationers come here on holiday to view the beautiful beaches in Agadir. You will find innumerable facilities along the long strips of Agadir beach; including hotels, cafés, restaurants as well as innumerable deckchairs and sunshades for hire. Due to the amazing weather conditions around the year, there is plenty of sunshine in Agadir, which makes it a primary destination for holidaymakers to get some tan while relaxing on the beaches.
Agadir Beach: It is a long and clean beach, which is forever crowded with locals and visitors. You will find several people swimming in the blue waters. After a refreshing swim, you can walk along the promenade that has several restaurants and cafés. Surfing, beach volleyball, and football are some of the activities that you can indulge in at Agadir beach.
Taghazout Beach: Close to Agadir, Taghazout beach is a great place to surf and enjoy the waters. The months of September to April are the best time for advanced surfers to have fun in the perfect waves. You will even find several surf schools and surfing rentals so that novices do not miss their day in the waters. In the mornings, you will notice several families buying fresh fish and barbecuing on the beach. Some parts of the beach are dirty, so you can certainly avoid them.
Tamraght Beach: If you are planning to visit the beach for a peaceful and relaxed day then you should visit the Tamraght beach. The calm and shallow water is perfect for families to have a great day by the seaside. There are a couple of restaurants close by that serve amazing Moroccan cuisines. You will find several locals in the mornings walking along the waters or doing yoga by the bay.
Food in Agadir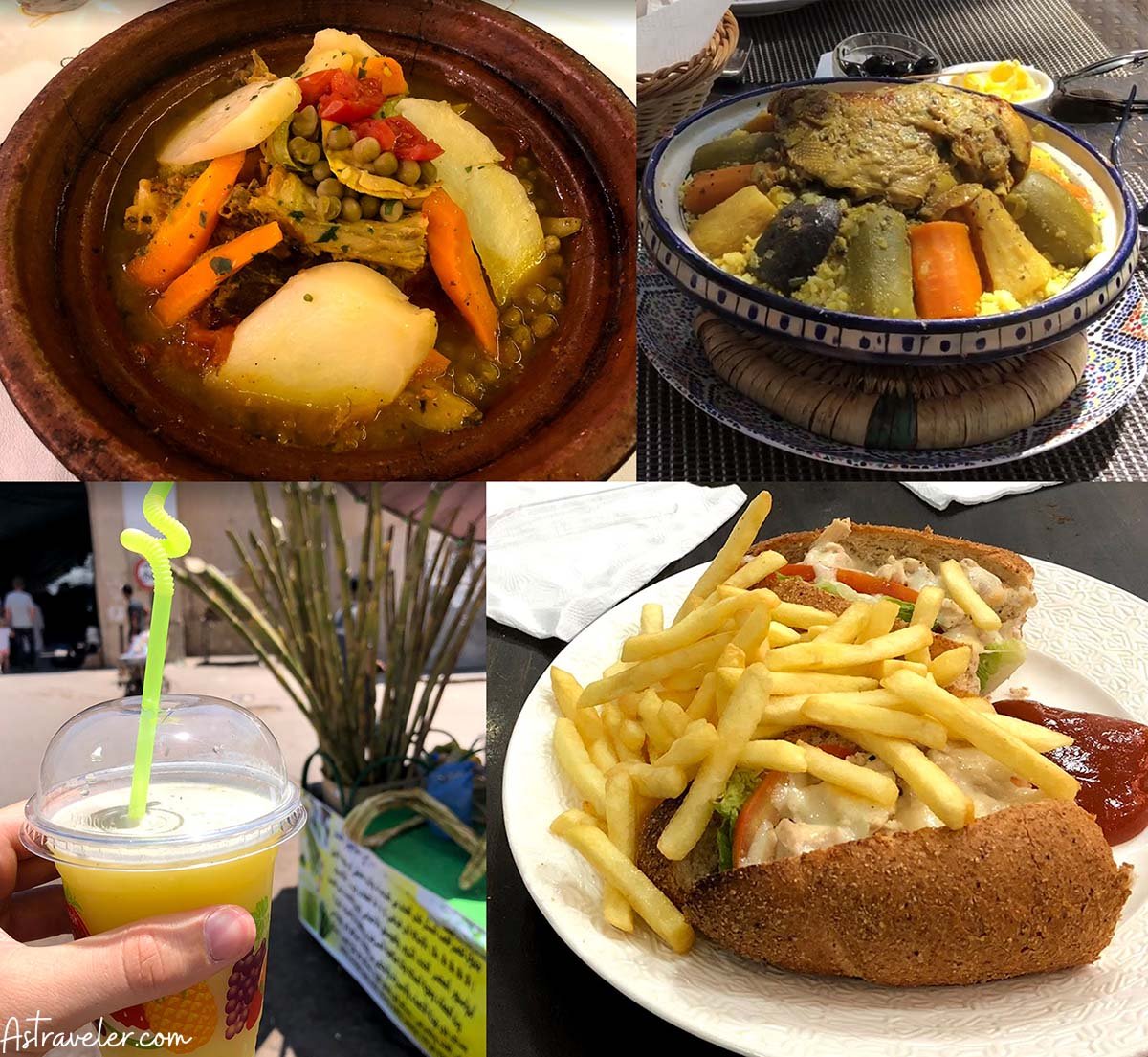 Moroccan cuisine is influenced by Morocco's interactions and exchanges with other cultures and nations over the centuries. Moroccan cuisine is typically a mix of Berber, Arabic, Andalusian, and Mediterranean cuisines with slight European and sub-Saharan influences.
Surfing Spots In Agadir
Morocco has always been popular across the world for its wonderful surfing spots. Whether you are at the beginning or advanced level, you can enjoy surfing to the fullest at Morocco. If you are going to surf for the first time, then it is advisable to begin with surf lessons. There are several organizers who provide one day surf activities so that you can take back many happy memories. Some of the must-visit surfing spots in Agadir and nearby Taghazout town have been mentioned below; so, ensure that you add them to your schedule.
Devils Rock: It is the best place for beginners as it is a sand bottom spot with left and rights. Ensure that you reach early on weekends as it gets quite crowded with locals and visitors alike. There are several cafés around where you can relish traditional Moroccan food and some beverages.
Anchor Point: The place is constantly crowded with locals as well as professional surfers as they can acquire top-notch experience. Travelers on a Moroccan surf trip have always added Anchor Point to their itinerary.
Banana Point: Located in the Banana Village, it is a great surfing place for beginners as well as professionals. If you are here on Wednesday, then don't forget to check its street market for shopping as well as savoring amazing local food.
Where to stay in Agadir
If you are wondering where to stay in Agadir, then here are the top three Agadir hotel options reviewed for you. Depending on your budget, you can choose any of them.
Agadir Beach Club Hotel
It is a 4-star luxurious hotel that is located on Agadir beachfront. There are various rooms available with varied views comprising of sea, swimming pool, or garden. Depending on your choice, you can book a room for your holiday. Some of the amazing facilities offered are sauna, hammam, massages, outdoor swimming pool, air conditioner, tennis court, free WI-FI, satellite TV, and private balcony, among others.
There are various bars, nightclub, and piano bar where you can enjoy your drinks. Meals can be relished as per your preference since you will be offered with Italian cuisine, international food, Moroccan specialties, sea-food, and much more. The wonderful and helpful house-keeping and staffs will ensure that you have a pleasant and memorable stay out here.
Atlantic Hotel Agadir
To have a comfortable and pocket-friendly stay, you can book your room at the Atlantic Hotel, Agadir. There are several rooms offered like single room, twin room, as well as single and twin rooms with pool views. You can pick your choice depending on your preference and availability.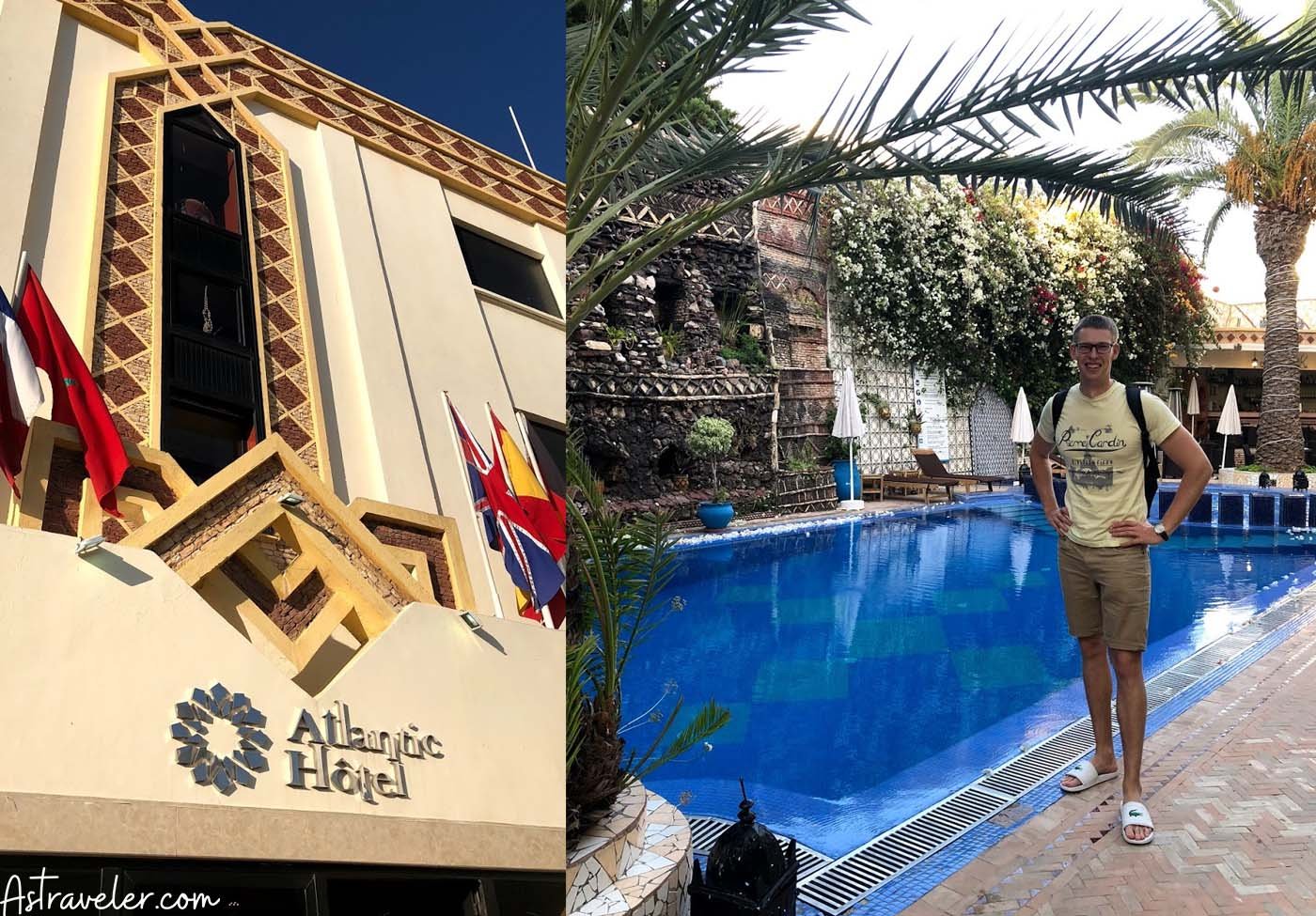 Sun terrace, private beach area, garden, swimming pool, spa, massages, restaurants, and snack bars are some of the wonderful amenities that you will get here. A few facilities that you will acquire with each room are free Wi-Fi, air conditioner, television, safety deposit box, and hairdryer among others. Their restaurant offers innumerable food choices, which would certainly spoil you to the core. Moreover, they even made special menu diets on request. What more could you ask for?

Tamraght Surf Hostel
Located about 20 minutes drive from Agadir is Tamraght Surf Hostel, which is a great option for those who are traveling on a tight budget. It is a perfect place to rest, surf, swim, and explore. The hostel is apt for solo travelers or families who are looking to meet new people and relax in a calm place that is away from the hustle-bustle of the city. While you are here, don't forget to enjoy the beautiful Moroccan sunrise and sunset from their rooftop. They prefer offering traditional Moroccan meals so that you can relish the authentic dishes rather than international cuisines. Your stay would be incomplete if you do not surf in the nearby waters. Beginners as well as professionals can have a great surf session out here, so get ready for some real fun!

Traveling Around Agadir
Petit Taxis
Petit taxis are a comfortable mode of transport in Agadir as you will find plenty of taxis in every nook and corner of the city. All you need to do is hop into them and the driver will drop you to your destination. The taxis work on meters so you do not have to bargain for the fares. Petit taxis are usually orange-colored Fiat or Peugeot that can accommodate three to four passengers. If you want to hire a taxi to travel outside the town then you can select the grand taxis, which are cream colored Mercedes. Note: Do not take an unofficial taxi and do not follow anyone who will offer you a ride aggressively on the arrival.
Buses In Agadir
Buses are an inexpensive mode of conveyance in Agadir. You can reach the beaches and markets easily by traveling through buses. An average fare to travel in buses is 5 to 10 Dhs, but the drivers usually do not carry much change. So, while traveling in buses ensure that you carry enough coins in local currency as you may not get change back. Also, there have been some cases of pickpockets in buses so keep your belongings safely. There are certain buses that can take you to nearby cities of Agadir, so you can book your tickets online and have a comfy ride.
Car Rent
Although for me traffic looked really difficult and chaotic, you can still try renting a car there. Check some Car rental options here.
Traveling Tips To Make Your Trip Enjoyable
While visiting Paradise Valley, ensure that you carry enough water as you need to trek a lot. Also, wear comfortable shoes and carry beachwear if you are planning to have a dip in the water, which is highly advisable.
Buses and taxis are the easiest way to move in Agadir as there is no rail network. Although there is a road-train that is commonly known as petit train, but that travels only in some parts of the city.
It is sunny in Agadir for the entire year but if you want to enjoy your time in the beaches then May to September is the best time to visit.
To experience the traditional dances and camel racing of Agadir, you should plan your trip in the month of June for enjoying the famous Sahraoui festival.
So, come and discover the beauty of Agadir, where you can have a magical and unforgettable stay. Don't forget to click lots of pictures and buy souvenirs to bring back happy memories with you. Have a safe trip!