If you want to enjoy a stroll in green areas and breathe clean air then you should visit Vilnius, the capital of Lithuania. Vilnius is famous for its splendid architecture, cobblestoned streets, murals, cathedrals, blue waters, and flora. Listed below are the top 15 things to do in Vilnius.
Discover The Eye-Catching Street Art
There are several areas in Vilnius where you could find amazing street art paintings. Some paintings are in geometrical form while others provide vital messages to the masses. These paintings make Vilnius city colorful as well as beautiful. Few places have gained a lot of attention by travelers; hence, the artists keep changing the paintings regularly. So, on your next visit to Vilnius, you will be able to view completely different murals. The theme of the paintings varies at each place and generally comprises of world politics, environment, and cartoons. After gaining a lot of popularity, there have been several street art festivals that are held annually.
Where to find them? Some of the areas where you can find beautiful street art are Panorama Underground Passageway, open space by the Neris River, Ernest Zacharevic, and Antanas Dubra among others.
Go For A Free Walking Tour
The best way to explore a new city is by walking around in the remotest streets. Moreover, if you have a local guide to lead you to the main tourist attractions and few interesting lesser-known places then it would certainly enhance your trip. There are several free walking tours offered by tour organizers in Vilnius, so you can book any of them depending on your preferences.
Tip: Put on comfortable shoes and clothing so that you can walk without any difficulties. It is advisable to wear compression socks to provide warmth to your legs and make your walk easier. Also, carry lots of water and healthy snacks to keep you going. Also if there is no free tours available at the moment of your trip you can try some paid ones.
Shop At The Largest And Oldest Market
Constructed in the year 1906, Hales Market is located in Old Town. It is a well-known indoor market amongst locals as well as travelers as you can get freshly grown fruits and vegetables, dairy products, smoked meat, sea-food, flowers, clothing, and more. There are several bars, cafés, bakeries, and restaurants where you can relish authentic Lithuanian cuisine. Don't forget to try some freshly baked pastries and coffee out here. It is a great place for first time travelers since they can taste the local foods and gain information on the culture of the city.
How to reach? The market is located at Pylimo g. 58, Vilnius. It opens at 7am and closes at 6pm from Tuesday to Saturday. On Sundays the market closes at 3pm. On Mondays the market is closed for the entire day.
Get Into A Hop-On-Hop-Off Tour Bus
To view the major tourist attractions of Vilnius, you should book a ticket for a hop-on-hop-off minibus tour with audio guide. The tour is available for 24-hours and depending on your preference you can pick any of the four slots that are available to start your journey. You will be provided with headphones to get details on each attraction. The audio guide is available in eleven languages, so you can choose any one for yourself. The tour begins at Cathedral Square and will take you through numerous landmarks. You can get down at any of the attraction and then hop into the next bus that comes through the way.
Tip: If you are visiting Vilnius on a short trip, then it is recommended to take this tour and see all vital landmarks in a day.
Take A Walk By The River Neris
Start walking to the west side from Žaliasis Bridge, to see Baroque Church, Radisson Blue Hotel, Sakura Park, and many more touristy areas. You may even consider going for a boat ride to have a wonderful experience. If you are traveling with kids then they would enjoy visiting the Baltasis Bridge Recreational zone where they could play basketball, volleyball, or simply skate around the area. For those who enjoy shopping, you can visit the CUP Departmental Store for buying clothing and other essentials. There are several coffee shops and restaurants to relish traditional tea, coffee, and meals. If you are lucky enough, then you may even be able to do a hot-air balloon flight over this beautiful city.
Suggestion: There is so much to explore near River Neris, that you could spend almost an entire day discovering each attraction, so mark a day in your itinerary for it. Remember that hot-air balloon services are available only in summers and early autumn.
Discover The Museum of Occupation And Freedom Fights
Previously known as the Museum of Victims of Genocide; it was established in the year 1992 and housed in the building where KGB (Soviet Security Services) had operated for about 50 years. It has been dedicated to thousands of Lithuanians who were imprisoned, deported, or murdered by the Soviet Union from World War II. Old photographs, prison cells, and wooden annexes display the past horrors in detail. The museum has garnered a lot of popularity as it reminds the present generation about the tragic events that Lithuanians had to go through in the past. There are several events and exhibitions held in the museum on a daily basis. A visit to the museum will surely leave an unforgettable impression on the visitor.
When To Visit? There are different timings specified for each kind of service that the museum provides; like excursions, educational activities, travel exhibition, and more.
Stroll In The Various Gardens
There are several lush green spaces in Vilnius where you can stroll or relax in the midst of the nature. Some of the popular areas that you could visit are Bernardine Garden, VU Botanical Garden in Kairėnai, and Japanese Garden. On your visit to the Bernardine Garden, ensure that you reach in the evenings to view the beautiful and colorful musical fountain. There are several events and exhibitions that are held on a regular basis like Christmas decoration workshop, exhibition of pupils' floristry works, and more at the VU Botanical Garden in Kairėnai. You can participate in them and have a memorable holiday. At the Japanese Garden, you can view films as well as participate in Japanese arts and martial arts classes. However, the weather should be pleasant so that you have a wonderful time strolling and participating in various events.
What are the timings and charges? There are certain entry fees and timings for the gardens to remain open, so check that out before visiting one. For instance; the Kairėnai garden is mostly open from 8am to 6pm; however, the timing changes every season. So, you can check its official website before planning a visit.
If you would like to enjoy more gardens and parks, I suggest you to take a bus to another city Klaipeda which is a coastal city and has more attractions related to water. You can read more about Klaipeda and add it to your itinerary as well.
Explore The Vilna Gaon State Jewish Museum
If you are inquisitive to learn about the Jewish population of Vilnius, then head straight to the Vilna Gaon State Jewish Museum. There are several permanent and temporary exhibitions held each day, which will provide an insight on how a country having strong Jewish population was wiped out completely. If you are traveling with kids then they could participate in various educational programs that are held regularly in the museum. Most of these activities can be easily adapted by visitors of all ages, so it doesn't matter if your child is in kindergarten or a teenager.
What are the entry fees? Entry charges to the museum are 3 Euro per adult and 1.50 Euro per child. Ensure that you allot at least 2 hours to explore the entire museum properly. If you are participating in events or educational classes then you need to buy separate tickets for it.
Relish Authentic Lithuanian Cuisine
Your trip to Vilnius would be incomplete if you do not savor traditional Lithuanian cuisine. The must-try delicacies are Šaltibarščiai (beetroot soup), Didžkukuliai (potato dumplings), Balandėliai (stuffed cabbage), Skilandis (cold-smoked sausage), and Juoda Duona (dark rye bread). Some famous restaurants that you could visit for relishing them are Mason Gastropub at Town Hall Square, Chačapuri in Old Town, and Kitchen, which is an outdoor balcony that is located above Town Hall square.
Suggestion: You should try the local street foods too, which are easily available in market areas or outside shopping complexes.
Visit The Hill of Three Crosses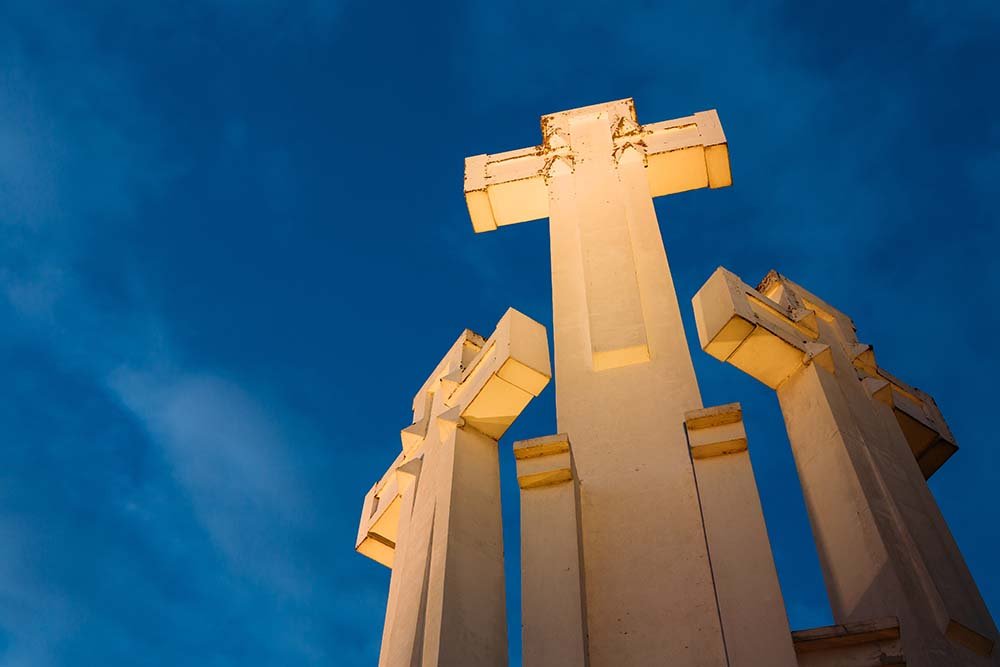 A famous monument of Vilnius, Three Crosses is located on the Hill of Three Crosses in Kalnai Park. All three white crosses were erected during the Second World War. It is the best place to view the beautiful city while being surrounded by peace and tranquility. There are two ways to reach the hilltop. You can either take the strenuous yet beautiful one by climbing wooden steps near Vilnia River or the relaxed one that starts from Neris River. However, remember to wear comfortable shoes as you need to walk a lot. There are several restaurants and cafés nearby like RoseHip Vegan Bistro and Shakespeare Hotel, so you can rest a bit while relishing great food.
Tip: Don't forget to click panoramic pictures of the Vilnius Old Town that can be viewed from the observation deck, which is at the base of the crosses.
And if you want to discover even more unique place related to religion, then you should take one of the day tours to a place called Hill Of Crosses near to the city Siauliai.
Spend A Couple Of Hours At Spooky Areas
Book for a tour that will let you explore the haunted areas of Vilnius Old Town. It is a 2-hour walking tour to view some secret locations and hear horrifying stories of monsters and murders. Your first stoppage would be to the Vilnius Satan House. On the way, your guide will tell you some frightening stories of a monster that used to scare locals. So, if you enjoy hearing scary tales of abandoned buildings and churches then this is a perfect tour for you.
Tip: Wear comfortable shoes and carry a torch since it is a night tour.
Shop Till You Drop At The Christmas Markets
Vilnius has some of the most lavish Christmas markets in Europe. One of them is located in Cathedral Square, which has several stalls put up under a huge Christmas tree. You can purchase handcrafted stuffs and festival treats out there. Some more popular markets are located at Town Hall Square and Bernardinai Gardens. So, if you are planning to visit Vilnius in the month of December then you will certainly have a great time shopping for some beautiful souvenirs and handicrafts.
Try this: The International Christmas Charity Bazaar held at Vilnius Town Hall in the first week of December should not be missed at all. There are more than 30 international communities that come together to sell their products.
Visit The Gediminas Castle Tower
If you are fascinated towards numismatics and archaeology, then you should visit the Gediminas Castle Tower. The tower is located on top of a hill and houses a museum that exhibits several archaeological findings. It is a three-floor tower that can be explored on foot or by taking a lift to reach the top of the hill. Photography exhibitions, archaeological footwear exhibition, pottery exhibition, etc. are some of the events that are held regularly in the museum. For numismatists, there is a huge collection of coins, medals, paper money, seals, etc. displayed at the various exhibitions.
Proposal: Archaeologists and numismatists would certainly have a great time here, so try to visit on a day when there is an exhibition or event going on.
Take A Day Trip To Trakai Castle
Although Trakai Castle is not located within Vilnius city, it is just a 30 minutes drive by local bus, so you must add it to your itinerary. The castle was built in 14th century and is one of the most popular tourist destinations of Lithuania. Surrounded by Lake Galve, it is a beautiful sight that should not be missed. The castle houses a museum where you can view some of the most valuable paintings, coins, maps, medals, jewelry, armor, and more. The entrance ticket costs 7 Euro for adults and 3.50 Euro for students.
Suggestion: If you have some extra time in hand, then participate in the variety of educational activities that are held on a regular basis.
Watch A Movie
If you have 2-3 spare hours then you should spend it at Skalvija, which is the oldest cinema house in Vilnius. It is a small cinema house with only one screen that can accommodate 88 people at a time. Both classics and new releases are screened here in their original language with subtitles in Lithuanian. Those who are interested in the art of filmmaking can participate in various educative events and festivals that are held here. It has a café where you can pick your drink and enjoy with the movie. Or you can also visit Forum Cinemas or Multikino depending on your location.