Whether it is a road trip across Europe, a luxury vacation in a beautiful destination, or simply a short trip to unwind after a long year of hard work, travel has always provided a peaceful and relaxing escape from the daily grind.  However, this enjoyable experience still comes with a little bit of stress, and packing luggage is one of the main culprits behind it. Between the large number of items that you have to pack, the constant fear of forgetting something really important, and not knowing which type of suitcase is best suited for your trip, the process can be a downright nightmare. This is even more so the case for people who don't travel frequently. To help you find the best carry on luggage, we have created a comprehensive guide that goes over every aspect of this type of suitcase and reviews the top 5 models on the market.
Best Carry On Luggage Buying Guide
What exactly does carry-on mean?
A carry-on refers to the type of luggage that you are allowed to bring with you on the plane. In other words, this definition encompasses any suitcase or bag that is small enough to fit into the luggage compartment spaces of an airplane. Traveling with carry-on luggage provides a lot of advantages to travelers and helps them avoid the exorbitant fees that are being charged by airlines. Moreover, the convenience of not having to maneuver a large suitcase through crowded airports, public transportation, and busy streets is in of itself a good reason to invest in a carry-on.
What you need to know before buying a carry-on luggage
When it comes to the main factors that you should consider, the dimensions of the luggage should not be the only thing that you look at when picking a carry-on. There are several variables that come into play and all of them play a major role in determining the overall quality of a carry-on suitcase. Below is a brief overview of some of the aspects and features that you need to be aware of.
The Size of the carry-on suitcase
In order for a suitcase to qualify as a carry-on, it needs to meet the size specifications of the overhead bin. The problem is that there is no such thing as a standard or universally accepted carry-on size. The maximum dimensions tend to vary from airline to airline, and even more so if we include international travel. To avoid any potential issues at the gate, make sure to check the allowable carry-on size of your airline and get a carry-on that is slightly smaller than the allowed maximum. If you are looking for something bigger, we have prepared you best travel luggage buying guide as well.
The Capacity of the interior compartment
The importance of this factor will depend on the nature of your trip itself. Is it a long one? Are you planning on using the carry-on as your sole suitcase? If that is the case, you are going to need a carry-on that is spacious enough to hold all your travel essentials. Most manufacturers don't advertise the exact capacity of their suitcases, but there are still some signs that can give you a rough estimate of what a carry-on can hold. Generally speaking, you should opt for suitcases that have squared edges since curved corners take up extra space from the interior compartment.
The weight of the carry-on
Over the past couple of years, a number of airlines have begun imposing weight restrictions on luggage. While this is far from being the case for the majority of airlines, there is no telling when the rest will follow suit. To stay on the side of caution, get a lightweight carry-on that weighs less than 7.5 pounds so that it won't use up a significant percentage of the total allowable weight.
The quality of the wheels
The quality of the wheels is a very important factor since they are directly responsible for how the carry-on luggage rolls. They should be sturdy enough to handle frequent use and have to be designed in a manner that allows them to glide on most surfaces without requiring any extra effort from the user. There is some debate about whether two-wheeled models are better than four-wheeled models; however, our own experience has shown that both models can be effective and durable as long as the wheels are properly made and built into the frame.
The quality of the handle
It goes without saying, a handle is necessary for any sort of rolling garment bag. Make sure to get a carry-on that has an extendable handle, and preferably one that is mounted externally rather than internally since it would allow for more packing space. More importantly, the handle should be made form good materials and needs to provide easy and comfortable gripping.
The durability of the zippers
The zippers are one component that a lot of manufacturers get wrong, and this is not only exclusive to the affordable entry-level models. Poorly made zippers are easily recognized by their flimsy design, thin material, and weak teeth. On the other hand, high-quality zippers tend to be quite big and never get stuck at the top or on the fabric.
The extra compartments
Regardless of how spacious the interior compartment is, you might still need a set of extra pockets where you can store different items such as toiletries, shoes, ties, and a host of other accessories. It is also essential to remember that some items need to be kept separate from clothing items. Some carry-on suitcases come with multiple TSA-compliant pockets as well as a removable wet pocket for liquids of cosmetics.
Reviews of the best carry on luggage November 28, 2023
Travelpro Platinum Elite 21″ Expandable Carry-on Spinner with USB port
This is easily one of the top options in this guide. Travelpro Platinum has managed to become a dominant entity in the luggage market thanks to their high-quality products that offer smooth-rolling, durability, and overall comfort for the traveler. The Elite 21 comes at an affordable price considering the wide array of characteristics and features that it is equipped with. These include a set of well made and easily replaceable wheels, a remarkably practical telescoping handle that makes gripping and wheeling the suitcase an effortless process and a sturdy interior chassis that is engulfed in an elegant nylon exterior.
On top of being a durable and stylish carry-on luggage, the Elite 21 features several innovative and unique design elements that enhance its functionality. It comes with an external USB port that allows you to power your devices on the go as well as a dedicated power bank pocket that adheres to Faa regulations. Furthermore, it boasts a highly sophisticated precision glide system that includes a contour grip and an adjustable PowerScope handle that allows for more control over the suitcase. The interior of the Elite 21 is surprisingly spacious considering its relative lightness and compactness. It also comes with several compartments that are ideal for storing toiletries and other travel essentials. The accessory pockets are TSA-compliant and the quart-sized wet pockets are sturdy and removable. The overall capacity of the Elite 21 is impressive and is large enough to hold most of your travel essentials.
Travelpro's confidence in the quality and durability of this product is highlighted by their generous warranty. The company offers lifetime free backing that covers the cost of repair for any damage sustained by an airline or another common carrier. The warranty is applicable after registering the luggage within 120 days of the purchase.
Pros
      The design of the suitcase is simple and quite elegant
      The adjustable PowerScope extension handle features a number of comfortable touch points
      It comes with a USB port and a dedicated power bank pocket for charging your devices
      The Elite 21 has a number of spacious compartments and pockets
      Travelpro offers a lifetime limited warranty for airline or carrier damage
      It is easy to grip and maneuver
Cons
·        It is not designed to hold a laptop bag
Briggs & Riley Baseline Domestic Expandable Carry-on
If your budget allows it, the Briggs & Riley Baseline Domestic Expandable Carry-on suitcase would constitute a great investment for your air travels. It has all the advanced features that ensure the highest level of comfort and practicality and is exclusively made from premium materials, making it a highly durable unit that is designed to withstand the wear and tear that are associated with frequent travel. It combines easy maneuvering, tremendous sturdiness, and a remarkable spaciousness that is pretty much peerless on the market. The high-end and premium feel of the Briggs & Riley is primarily evident in the quality of the fabric. The 2520D ballistic thick nylon is abrasion-resistant and contains a number of water-repellent properties.
This suitcase boasts a unique expansion-compression system that allows it can expand for extra storage space and return to its original size for more compactness. Moreover, the lack of bars in the interior of the suitcase leaves you with a spacious flat packing surface that is perfectly suited for clothes. The compression capacity of the suitcase coupled with the built-in garment carrier is also ideal for packing clothes due to their ability to minimize shifting, which is necessary if you want your clothes to arrive wrinkle-free. Another major component of this suitcase is the quality of the double spinner wheels. They effortlessly glide on all types of surfaces and provide you with easy 360-degree navigation. This is further aided by the lightweight build of the frame, which is mostly comprised of hybrid fiberglass.
Other practical features include the SpeedThru pocket. This conveniently-placed compartment allows you to breeze through security checkpoints by storing your items in a way that enables easy access. It is remarkably deep and can hold a sizable amount of your travel essentials and features an orange lining that facilitates spotting items and alerting the traveler if the pocket is left open. If you have a bigger budget it definitely can be your's best carry on luggage.
Pros
      The quality of the fabric is unmatched in the market
      Its spinner wheels and lightweight build allow for easy handling and maneuvering
      The SpeedThru effective is a valuable time-saver in security checkpoints
      The expansion-compression system gives the suitcase a lot of flexibility
      Designed to provide wrinkle-free packing of all types of clothes
Cons
      It is significantly more expensive than the average carry-on suitcase
      Not enough color options to choose from
Kirkland Signature Softside 22″ 2 Wheel Carry-On
This is one of the most affordable options in our guide. It is mostly designed for people who don't travel that often and are not prepared to invest a lot of money in a pricey item that they won't be using that much. Despite its low price, it still has various qualities that make it an excellent carry-on suitcase. It is made from heavy-duty Cordura ballistic nylon and engineered with the company's proprietary Fit Frame technology. The Kirkland Signature Softside is without a doubt the most durable carry-on in this price point.
This competitively priced suitcase comes with a wide assortment of features that include a removable garment bag, different spacious pockets, and a bag strap for easy stacking. It is equipped with oversized and easily removable wheels that provide smooth rolling on most surfaces and has an effective retractable handle system that is quite sturdy and practical. The ergonomic design of the handle allows for easy gripping and enables you to maneuver the suitcase effortlessly.
The interior compartment has ample space and the suitcase's capacity is further boosted with a number of exterior compartments and an RFID-safe pocket can hold some of your more valuable and sensitive items such as credit cards and cash so it can be your choice for business travel.
The Kirkland might not be as compact and lightweight as some of its more expensive competitors, but for the price that you are paying, you are getting a tremendous amount of value that far exceeds its price, especially if you are not a frequent traveler.
Pros
      Comes at a very affordable price considering its features and durability
      The Cordura Ballistic Nylon exterior has a premium and elegant feel to it
      The RFID-safe pocket is spacious and well designed
      The ergonomic design of the handle and the durable in-line wheels
      Includes various exterior compartments
Con
      The dimensions are big enough that you might be forced to check the suitcase in some countries
      It only has two wheels
Travelpro Platinum Elite 22" Expandable Carry-on Rollaboard Suiter Suitcase
This is another great carry-on suitcase from Travelpro. It features a unique spinner system that enables the wheels to settle into a forward position when you are rolling the suitcase. To make wheeling it through a crowded airport even easier, the Elite 22 is equipped with a patented tracking system that incorporates light magnets and ensures that it is effortlessly gliding next you at all times. On top of having an interior compartment that is quite spacious and wide, there is also an included bag that is removable and can hold several clothing items with the added benefit of featuring a built-in fold-out suiter that prevents wrinkles from forming during travel. The wheels of the Platinum Elite 22 are one of its major selling points. They are very strong and designed to roll smoothly on most surfaces without requiring any strenuous effort from you. The maneuverability of this spinner luggage is one of the best in this price range.
The quality of the craftsmanship and the fabric itself is also worth noting. The stitching is immaculate and the Ballistic nylon that it is made from is thick, tough, and resistant to wear and tear. The interior of the suitcase is strikingly elegant and includes built-in accessory pockets that give you easy access to your essential travel items as well as a TSA-compliant removable wet pocket that is designed to hold your toiletries.  Like most high-end suitcases from Travelpro, the elite 22 allows you to charge your mobile devices on the go thanks to its built-in USB port and a dedicated power bank pocket (the battery is not included).
As far as dimensions are concerned, the Platinum's 23 by 13.5 by 9 inches might seem a little bit too big, especially if you are worried about winding up with a stickler agent. However, this is highly improbable and the vast majority of users who reviewed the product had no issues at the gate, most of the users even admitted that this is their top choice.
Pros
      It has an innovative spinner system that makes wheeling the suitcase fairly easy
      The tracking assistance system is effective in crowded airports and busy streets
      Comes with a removable garment bag for increased capacity
      The wheels are large and remarkably durable
      The design is elegant and eye-catching
      The stitching is great the fabric is thick and rugged
Cons
      The handle is not easily adjustable
      It is a little bit bulky
AMERICAN TOURISTER Soundbox –

Most recommonded
This affordable suitcase is another option that provides great value for the money. Its rugged wheels allow for smooth gliding through crowded airports and the extendable handle is designed to provide easy gripping and firm control. The maneuverability that is offered by the American Tourister Soundbox coupled with its impressive spaciousness makes it ideal for long trips. It can hold most of your travel essentials ranging from clothes and toiletries to electronics and their various accessories. This is especially valuable when you are on a tight budget during your travel and can't afford to pay the high luggage charges multiple times.
Besides boasting a large interior compartment, the Soundbox has an internal divider pad that offers ample storage space and can serve as an extra compartment for a multitude of compact items. Additionally, the suitcase is equipped with an expansion mechanism that further enhances the capacity of the case, a rare feature at this price range.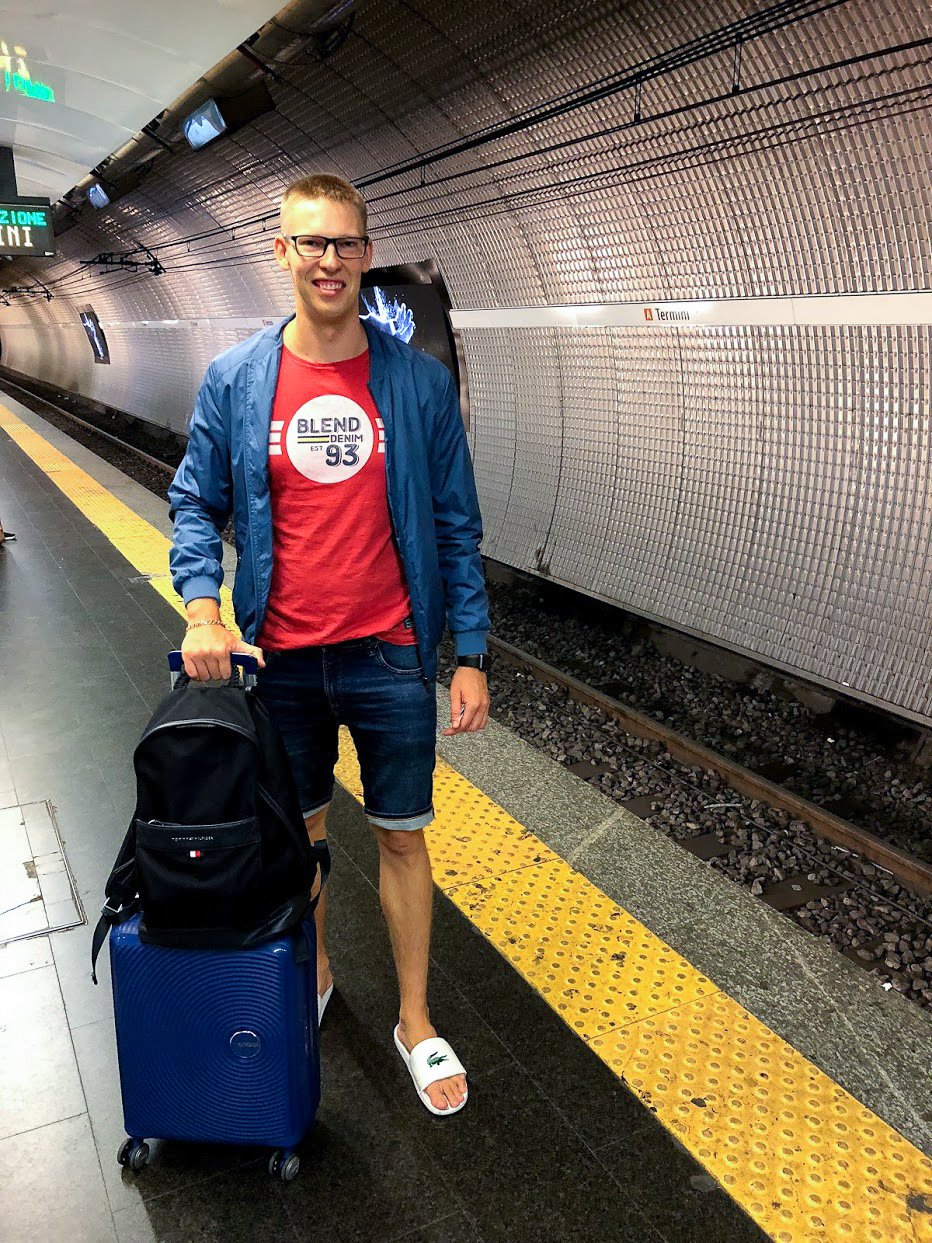 When it comes to durability, the Soundbox exceeds all expectations. The polypropylene material that it is made from is extremely sturdy and can withstand a significant amount of impact without sustaining any damage. More impressively, the suitcase is very light and easy to maneuver despite the tough nature of the material.
If you are a fashion-conscious person and want to get a carry-on suitcase that is both stylish and able to complement the way you dress, then the Soundbox would be a worthy investment. Its dimensions are simply ideal and its design is minimalistic yet chic and comes in an eclectic selection of colors that are guaranteed to go well with any fashion style. Due to the selection of colors, it can be the best option for men and women.
Pros
The price is affordable considering the included features
It comes in a wide range of unique colors
The polypropylene material ensures that the suitcase is extremely durable yet light
Features an expansion mechanism that significantly enhances the storage capacity
The interior compartment is very spacious
The suitcase is easy to wheel thanks to the rugged wheels
In my opinion it is also the best lightweight carry on luggage
Cons
 The light-colored suitcases tend to stain fairly quickly – however, I use luggage protection when I check them in.
 No more cons
Even more about this luggage you can find on dedicated page – american tourister soundbox review article.
Conclusion
The best carry-on luggage should have the three essential qualities that guarantee a convenient and stress-free travel experience; a spacious interior compartment that can hold most your travel essentials, a sturdy and durable build that can withstand daily impact, and a set of high-quality wheels that guarantee an easy maneuvering in airports. While there are no perfect products out there, we can safely state that each of the carry-on suitcases that we reviewed is the best in its given price range and provide great value for the price. If you want even more quality luggage then I suggest you to read our Samsonite Luggage reviews. It is up to you to determine which option is best for you based on your stylistic preferences, length of your trip, and budget.