Bangkok attracts innumerable tourists from across the world, which makes it one of the most popular cities to visit in Thailand. The city is apt for every kind of traveler as there is so much to explore and enjoy. If you are planning for a trip to Bangkok, then this article would be very helpful to you. Here, you will get to know the most important things to do in Bangkok, so that you do not miss the vital attractions and have a safe stay.
Best Time To Visit Bangkok:
Bangkok remains hot and humid for the entire year with slight variations in the weather, so it is a year-round destination. You can plan your trip to Bangkok any time of the year, depending on your other commitments. However, the peak tourist season is from November to February as that is the time when the weather is a bit mild. March, April, and May are the hottest months and exploring the city in the afternoons could be tough.
In the month of April, Bangkok celebrates Thai New Year with fervor and gaiety. So, if you are planning your trip in April then ensure that you carry your sunglasses, hat, and sunscreen. June to October is the rainy season, which is also considered as the low season for tourism. However, in these months, you will get some amazing deals on hotels and tours. If you are planning to visit Bangkok in the rains then prepare your itinerary in such a way that you spend time in huge shopping complexes, entertainment venues, and temples.
What To Do In Bangkok?
Floating Market Bangkok:
Your holiday to Bangkok would be incomplete if you do not visit their famous floating markets. There are several floating markets in Thailand that attract visitors as well as locals. Floating markets are somewhat like riverside markets where you will find several boats parked below a low bridge selling their specialties. Tourists and locals usually visit these markets for enjoying the ambience, shopping fresh fruits or vegetables, relishing authentic Thai cuisine, buying traditional stuffs, and much more.
A meal at the floating market is a must for enjoying your trip. You will see several locals cooking huge prawns and other sea-foods on small barbecues. The food is usually served on low tables with small wooden stools to sit. You should try out the mini-coconut pancakes and boat noodles while you are here. Weekends are quite crowded as you will find several locals savoring the popular cuisines. Ensure that you are carrying plenty of local currency; Thai Baht as no one accepts credit cards in these markets. You might even find a group of Thai traditional musicians playing for few hours to enhance the entire experience.
Some Of The Famous Floating Markets In Bangkok Have Been Mentioned Below:
Khlong Lat Mayom Floating Market: It is open only on weekends and holidays. The opening hours on Saturdays, Sundays, and public holidays is 9:30am to 4:30pm.
Talin Chan Floating Market: You can cover both Talin Chan Floating Market and Khlong Lat Mayom Floating Market on the same day as they are in close vicinity. The opening hours on Saturday and Sunday are 8am to 5pm.
Damnoen Floating Market: This market is open each day from 7am to 5pm. By around 9am, the market starts getting crowded so if you want to avoid the crowds then it is advisable to reach there by 7am. It is located about 100kms from Bangkok.
Chatuchak Weekend Market:
The Chatuchak Market is the biggest weekend market in the world that comprises of over 15,000 stalls selling various stuffs. Millions of people visit the market every week, so ensure that you add this to your itinerary and allot at least half a day for exploring the entire area. Although the entire market is open only on weekends, selected parts of it are open on specific days. For instance, the plant section of the market is open on Wednesday and Thursday from 7am to 6pm.
Wholesalers can visit the market on Fridays from 6pm to 12 midnight for purchasing innumerable items in bulk and for a very cheap price. So, if you want to stroll around the market or buy gift items in bulk to take back home then it is better to visit on Fridays. On Saturdays and Sundays, the entire market is open from 9am to 6pm. Depending on your traveling month; it could get extremely hot in the afternoons, so reaching the market by 9am would be the best decision.
Lumpini Park:
Lumpini Park is the largest and oldest open spaces of Bangkok that is about 400 meters away from Patpong, the popular night market district. If you want to get a respite from the hustle and bustle of Bangkok life, then you should spend some time in the Lumpini Park. The access to the park is free for all. Occasionally, there are some concerts that are held in one of its gardens, which might be chargeable.
You can spend a relaxing day in Lumpini Park by wandering amongst the extensive lawns, discovering the wildlife and plants, or hiring a paddle boat for a fun ride. Ensure that you carry enough water and a hat to keep yourself protected from the heat. There aren't many refreshment outlets, so if you are with kids then don't forget to carry some snacks for them. To avoid the crowds, it is better to visit the park on a weekday rather than a weekend.
Siam Niramit:
Siam Niramit is famous for providing entertainment and recreation under one roof. The Ratchada Theatre, Sawasdee restaurant, miniature Thai village, and a gift shop can keep you busy for the entire day. The show held in the theatre is amazing and is an excellent way to gain knowledge on Thai culture. The special effects make the show realistic and the wonderful performance by one hundred performers will keep you spellbound.
The theatre has the capacity to seat 2000 people and 25 wheelchair bound visitors. The show starts at 8pm every day and the duration of the show is 80 minutes. However, you can enter the premises by 5pm and spend time in the Thai village, restaurant or gift shop. Moreover, you can even opt for the traditional Thai massage that is been provided by qualified masseuses. Siam Niramit is considered to be one of the largest stage productions in the world, so allot an evening from your schedule now.
Bangkok Nightlife: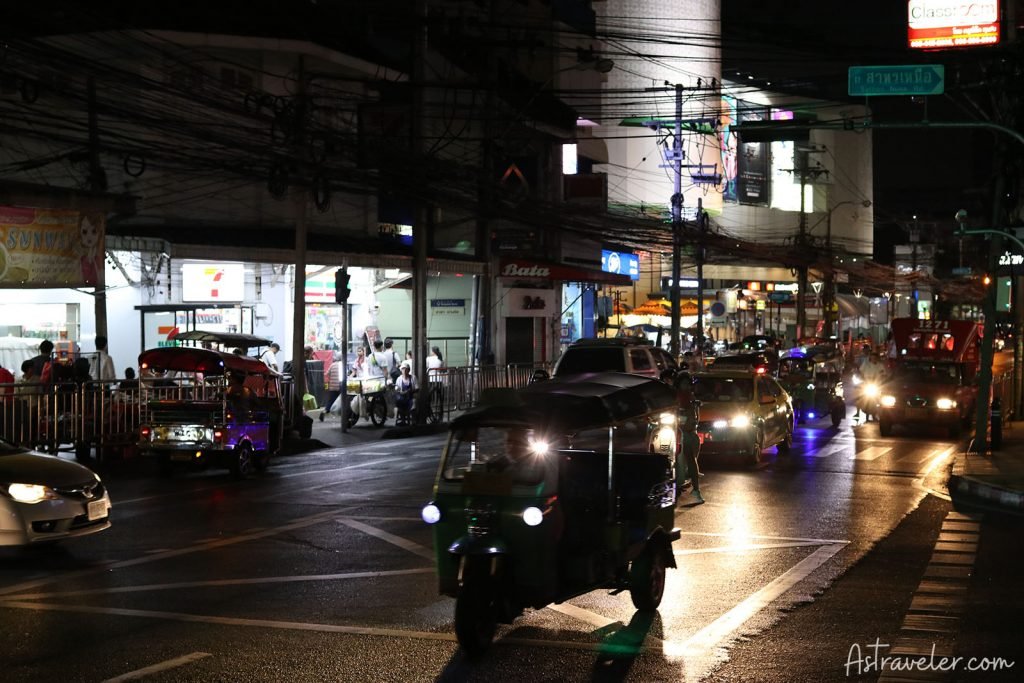 Bangkok Night Market:
If you want to explore the local life of Bangkok, then you should visit the night markets. Nightlife in Bangkok is always buzzing with energy as the tourists and locals enjoy spending their time shopping in the night markets and relishing the delicious food. You will find a huge array of restaurants, bars, and shops spread across the city that open only in the evenings.
The mouth-watering cuisines and wonderful live entertainment offer a carnival like atmosphere and makes Bangkok nightlife popular across the world. These markets are the best place to buy handcrafted local items as a souvenir. Some of the famous Bangkok markets have been mentioned below:
Asiatique, The Riverfront: Located at Chareonkrung Soi 74-76, the Asiatique market is open from 5pm until midnight. It is a popular market of Bangkok that will enhance your shopping experience as there is a mall and a night bazaar in close vicinity. There are over 1000 boutique stalls, innumerable street food vendors, and over 40 restaurants to spoil you to the core. Once you are done shopping, you may consider watching a show at one of its two theatres.
Chang Chui Bangkok Plane Night Market: The market opens at 5pm up to 11pm and is located at 462 Sirindhorn Road, which is on the outskirts of Bangkok. You can shop for the innumerable reasonably priced gems to take back home some sweet memories. Also, the street food, beer, and cocktails are extremely cheap so you can munch on those while you shop. Don't forget to check the amazing art pieces made up of recycled and scrap materials, which are available here for sale.
JJ Green: If you enjoy visiting flea markets, then you should not miss this one. Located at Chatuchak, the market is open on Wednesdays to Sundays from 6pm to 1:30am. The market is famous for clothing, jewelry, and collectables that are sold at reasonable prices. There are several vendors selling second hand clothing, shoes, and stationery, so you will certainly get the best deals out here.
Khao San Road:
Whether you are looking for budget guesthouses, internet cafés, bookshops, restaurants, tattoo shops, bars, or massage parlors; you will find it all and more at Khao San Road! It is a one kilometer long road that attracts locals and tourists alike. Food is extremely cheap here and you should try out the traditional Phad Thai and spring rolls that are been sold by street vendors. Pizzas and hamburgers are aplenty and you are certainly going to get spoilt for choices. Some of the highlights of Khao San Road are VW Cocktail Bar, Bombay Blues, Lava Gold, and Brick Bar where you can spend the entire night dancing and drinking.
Bangkok Red Light District:
If you are not interested in spending time at the night markets, then you can go bar hopping as there are innumerable go-go bars and beer bars in Bangkok red light districts. The three popular red light districts of Bangkok are Soi Cowboy, Nana Plaza, and Patpong. In all three areas, you will find innumerable restaurants, bars, clubs, hotels, etc. where you could spend your night with the chosen lady.
There are specific ladyboy go-go bars in each of these places that draw a lot of attention. In specific streets like the Sukhumvit Road, you will find innumerable Bangkok girls and Bangkok ladyboys hanging out on the walkway, eagerly waiting for you. Most of the go-go bars offer rooms for a price to make your night all the more enjoyable.
Bangkok Chinatown:
Bangkok Chinatown is one of the best and largest Chinatowns in the world. To reach Chinatown, you can take the underground (MRT) to Hua Lamphong Station and from there hire a taxi or a tuk tuk that will drop you to your destination. Ensure that you wear comfortable shoes and carry plenty of water as it is recommended to explore the Chinatown on foot. You can easily spend an entire day in this unique and crowded area.
The Top 3 Attractions Of Bangkok Chinatown Have Been Mentioned Below:
Wat Traimit: Located at the beginning of Chinatown is one of the most beautiful Bangkok temples that should not be missed. Travelers arrive here especially to see the largest gold Buddha statue of the world. The temple is open from 9am to 5pm each day and entry to view the statue is absolutely free. However, if you want to visit the museum that is located in the top floor of the building then you need to buy tickets that cost 10 Baht per person.
Yaowarat Road: It is the most popular street of Bangkok's Chinatown. The road is filled with innumerable street food vendors and is a perfect place to relish authentic Thai cuisines. Once here, you should try out the exotic fruits, fresh seafood, homemade ice-cream, oyster omelets, flat noodles, and dimsums. The road gets extremely crowded in evenings when all shops are open and bustling with business.
Wat Chakrawat: Wat Chakrawat is a famous temple that is well-known for three live crocodiles that reside inside the holy place. It is located to the west side of Chinatown and entry to the temple is free for all. The timing for visiting Wat Chakrawat is 8am to 5pm. The temple is at a walking distance from Ratchawong Pier.
Bangkok River:
The Chao Phraya is a major river in Thailand that flows through Bangkok and reaches the Gulf of Thailand. On your trip to Bangkok, you should allot a day in your itinerary to visit the Bangkok Riverside. The riverside offers innumerable attractions like beautiful temples and quaint markets to keep you occupied for the entire day. Listed below are the top 4 attractions near Bangkok River that you should not miss:
The Grand Palace: If you want to explore the home of Thai Kings and their Royal Court then you should visit The Grand Palace. There is a beautiful Wat Phra Keaw located inside the palace, which attracts several Buddhist worshippers from across the world. The Grand Palace is open daily from 8:30am to 3:30pm. The entrance ticket costs 500 Baht per person, which includes entrance to the Vimanmek Palace as well as Abhisek Dusit Throne Hall.
As it is the most sacred site of Bangkok, you are supposed to dress properly otherwise you will not be allowed to enter the temple. Men and women should be fully covered and if you are not dressed appropriately then you will be requested to take clothes on rent at the booth near the entrance.
Wat Pho Bangkok: Wat Pho is one of the oldest and largest temples in Bangkok that displays more than 1000 Buddha images. Basically, the Buddhist temples in Thailand are denoted as 'Wat'. The Wat Pho is also referred as the Temple of the Reclining Buddha. The entrance to the temple costs 100 Baht and the timings to visit are 8am to 5pm. Ensure that you wear appropriate clothing to the temple and take your shoes off before you enter.
The temple is huge and after taking a walk around, tourists usually book a spot to get a relaxing foot, head, and shoulder massage by professional Thai masseuses. It is a popular therapeutic massage that involves yoga postures to relieve stress. However, before entering the temple, it is advisable to book a spot for the treatment otherwise you will have to wait for a long time.
Wat Arun: Famously known as the Temple of Dawn, Wat Arun is situated on the western bank of Chao Phraya River. It is a colorfully decorated temple, which is right opposite to Wat Pho. So, you can explore both temples one after the other easily. The entrance ticket to the temple costs 30 Baht for foreigners and entry to Thai citizens is free of cost. You can visit the temple anytime between 8:30am to 5:30pm each day.
The temple is lit up beautifully in the night so it is recommended to visit in the evening. However, be ready to face huge crowds as the holy place and nearby river attracts innumerable tourists each day. If you want to visit the temple in a peaceful time then reach by 8:30am. Wat Arun is considered to be one of the most beautiful temples in Bangkok, so make sure you add it in your 'must-visit' list.
Sky Bar At Lebua State Tower: Do you want to view the beautiful Bangkok from a rooftop bar that is about 63 floors up? Then, head straight to the Sky Bar at Lebua State Tower. Considered to be one of the highest rooftop bars in Bangkok, the Sky Bar offers spectacular views that should not be missed at any cost.
It is advisable to visit the Sky Bar in the evening by 6pm when the bar opens, so that you can get the best views of Bangkok city and the Chao Phraya River that is flowing below. You can order for a cocktail, beer, or wine and enjoy the wonderful sceneries with your drink. However, lack of seating and huge crowds of people may make your visit a tiring one. The Sky Bar is open from 6pm to 1am every day. You may even book a room in the Lebua, which is a 5-star luxury hotel so that you can visit the Sky Bar often.
Bangkok Hotels:
If you want to have the best experience in Bangkok, I highly suggest you to choose from one of these hotels. You can simply click on the name and book it or just look for the prices and more information.
To have a comfortable stay in Bangkok at affordable prices, booking a room at the Baiyoke Sky Hotel will be the apt choice. It is an 88 storey hotel that offers ultimate views of the city. The rooms and suites from 22nd to 45tth floor fall under Standard Zone, 46th to 63rd floor are Sky Zone and 64th to 74th floors are the Space Zone. In whichever floor you book a room, you will certainly be amazed with the glamorous and glittering views of Bangkok.
Few of the wonderful amenities that you will get with the rooms are mini bar, tea and coffee maker, all-day room service, free Wi-Fi services, hair dryer, and bathrobe, among others. There are innumerable restaurants and cafés in the hotel premises where you can enjoy your meals. For breakfast you can visit the eatery on 76th and 81st floor, while dinner can be enjoyed on 81st, 82nd or 83rd floor. Lunch can be relished on 76th, 78th or 79th floor and the coffee shop is located on the 18th floor.
By paying 400 Baht, you can visit the observation deck on the 77th floor. You can even go to the revolving point view, which is on the 84th floor. Here, you will be able to get amazing views of the city and can even see the Gulf of Thailand. On the 83rd floor, there is a roof top bar where you can enjoy a complimentary drink. The hotel is close to several shopping centers and entertainment venues, so your holiday would surely be a comfortable and enjoyable one.
If you are looking for a luxurious room that is available at pocket-friendly prices then book one at the Eastin Grand Hotel Sathorn. Eastin Grand is one of the premier hotels in Bangkok, which is located in Sathorn district and is close to Suvarnabhumi International Airport. Each of their 390 lavish rooms and suites offer stunning views to Bangkok's skyline.
Some of the amenities that you can avail here are free Wi-Fi, swimming pool, individually controlled air conditioning, LCD TV, fully stocked mini bar, and tea/coffee making facilities, among others. The hotel provides a wide range of facilities comprising of dining, fitness, transport, recreation, business, and much more.
They have several dining options to choose from like the Blunos at the 14th floor, The Glass House at the 5th floor, Chef Man at 3rd floor, and Swizzles that is located adjacent to the lobby, so you won't have to go anywhere else. Your holiday to Bangkok will certainly be a pleasant one by staying at Eastin Grand Hotel.
The biggest advantages of this hotel is the beautiful views, infinite swimming pool and connection with Skytrain system.
To have a lavish stay in Bangkok, you can book a room in Mandarin Oriental, which is a fabulous 5-star hotel. Located on the banks of a river, the hotel offers stylish rooftop bars, classy Italian dining, huge antique store, and much more. It is located in the heart of the city, and is close to numerous attractions of Bangkok like the Grand Palace, Wat Arun, Wat Phra Kaew, etc.
Each of the 368 rooms and suites has a distinct characteristic, which makes it unique as well as elegant. The hotel offers nine restaurants and bars so that you can always gorge on your favorite dishes. You can even schedule for an exclusive spa to have a relaxing holiday. Your stay in this truly remarkable hotel will help in making happy memories that can be cherished forever.
Traveling In Bangkok:
Trains:
There are some areas in Bangkok that can be only reached by train or by car. The train service is an affordable and convenient way to travel in Bangkok. There are two types of trains in Bangkok, which run until midnight; the BTS Skytrain and the MRT Subway.
The BTS Skytrain has a fixed fare while the MRT Subway fare varies depending on the age of the traveler. You can find more information on their fares by checking the ticketing machines that are available at each station. Remember to keep the train ticket safely as you will need it at the entry gate as well as at the exit gate.
Taxis:
Traveling by taxis can be easy as they are available at all parts of Bangkok. The taxis are supposed to run on meters, which will save time and energy that would otherwise be used in bargaining the price. However, you may find several taxi drivers trying to scam tourists by riding without meters. So, you need to either insist on making them ride on meter or simply hop into another taxi.
Also, keep in mind that taxis may take long time to reach your destinations in comparison to taking a train, as most of the areas in Bangkok are jammed with traffic. A plus point here is that wherever you are, you can just hop into a taxi and reach your destination easily. Moreover, you can even download the GrabTaxi App, which will let you book a taxi effortlessly.
Tuk Tuk:
If you are good at bargaining then you should certainly use the tuk tuk services. In comparison to taxis, the tuk tuk do not have meters. So, you will have to research properly beforehand and then start bargaining with the driver. You may even consider sharing the tuk tuk with others so that the price gets split between a group of travelers. However, as taxis are widely available in all touristy areas, the tuk tuk can be avoided completely.
Follow These Tips To Have A Safe And Pleasant Stay In Bangkok:
The Patpong night market is famous for fake brands, so ensure you do not get duped. Also, you will be able to see several dancing girls on either side of the market also you will be asked if you want to see some adult crazy shows every 2 minutes, so the market should be avoided by families with young kids.
Beware of pickpockets and take care of your belongings in crowded areas, especially in markets. Most of the markets do not accept credit cards and the ATM can be quite far, so it is advisable to carry enough local currency to have a wonderful shopping experience.
In most of the markets of Bangkok you have to bargain a lot unless it is clearly stated in the shop. Bargaining is quite common, so learn a few tactics beforehand and pick some stuff at the best possible rates. Moreover, you even need to bargain at salons and massage parlors.
There are some taxi drivers who will insist on riding without switching on the meters, so ensure that you avoid using such taxis. You should use only those taxis that ride on meters. This is an easiest way to scam tourists and make them pay more for their journey. In case you are unable to get a taxi, you can make use of the GrabTaxi App, which is similar to Uber. Also, taxi drivers will ask one price but when you finish the trip they will ask more, in this case simply give him the amount you discussed and just leave.
Always carry an ID card with you so that you can enter the nightclubs easily. It is advisable to carry a Xerox copy of your passport or any other important document rather than carrying the originals.
The street food is always spicy and sometimes expired so try to avoid it or always have medicine.
Be careful of TukTuks they are often involved is scam schemes, so if there is ability just don't use them.
How To Get From Bangkok To Phuket?
Once you are done with the list of things to do in Bangkok, you may consider planning a trip from Bangkok to Phuket. Phuket is well-connected to Bangkok by airways and roadways. There are several flights operating each day from Bangkok to Phuket. We took a direct flight with Vietjet airlines and it was just 1 hour long. Also because the flight is domestic you won't have any difficulties in the airport.
You may even consider traveling to Phuket by bus. In Bangkok, there are three major bus terminals and tickets for them can be booked directly at one of them. There is no direct route to travel from Bangkok to Phuket by train as you will have to reach Phun Phin Station in Singapore and then take a bus from there to reach Phuket, which will take another 5 hours.
All in all, you should visit Bangkok if you want to enjoy their vibrant street life, explore ornate shrines, munch on the innumerable delicacies, shop amazing stuffs at reasonable price, or simply want to have a relaxing holiday in the enormously tall hotels. As you already know about the vital things to do in Bangkok, your trip is surely going to be a pleasant and enjoyable one. So, book your tickets, pack your bags, and off you go to view this magnificent and full of surprises city!