Corfu is a lively, stylish, and historically charming town in Greece. Picturesque villages, excellent wines, historical monuments, clean blue beaches, and authentic Greek cuisine are some of the attractions of Corfu that you should not miss in this small mesmerizing island that has so many things to do in Corfu. The people of Corfu are extremely friendly and a visit to some of the restaurants would make you believe it. Most of them will offer a glass of grappa (local alcoholic drink) free of cost as a gesture of hospitality.
Corfu is full of energy and there are many ways to enjoy your time out here. This Corfu travel guide would help you in exploring this 'must-see' island of Greece easily and safely. So, make Corfu the next destination for your vacation and capture many happy memories by following this travel guide to Corfu.
Best Time To Visit Corfu:
Summer season occurs in between the months of July to September and the temperature is about 32 degrees Celsius. Although the sun shines for 12 hours a day, the climate is warm and dry with blue sky. Summers are the most favorable months to visit Corfu as the climatic conditions are ideal for surfing and swimming. Winters are mild and you can expect high level of rainfalls during the winter months as rains mainly occur in the month of November to March. Traveling during spring season would certainly impress you as the entire city looks colorful with lush greenery and clear waters.
Things To Do In Corfu, Greece:
Achillion Palace:
Located in Gastouri, the Corfu Achillion Palace is a magnificent piece of art that was exclusively built for the Empress of Austria; Elizabeth, in the year 1890. After the death of Elizabeth Empress, the palace was occupied by Kaiser Wilhelm II of Germany. Later on, after the World War II, the palace was given the status of a public building and is now been used as a museum.
You can visit the museum to explore its exquisite architecture and figurines. The amazing mural that is positioned right at the reception portrays Achilles carrying the dead body of Hector. The beautiful gardens and statues that inhabit the entire palace are worth admiring.
The Achillion museum is open on all days and the timings are 8am to 7pm. On weekends and holidays, the timings to visit the museum are 8am to 2:30pm. The tickets to enter the museum can be purchased from the information desk, which is at the entrance of the museum. The ticket for children up to 14 years is EUR 2, teenagers up to 18 years can enter for EUR 5 and for adults the price is EUR 7.
Paxos And Antipaxos:
Your Greek holiday would be incomplete without a sea cruise to the beautiful island of Paxos and Antipaxos, which are located on the southern coast of Corfu. The cruise trip would cost approximately EUR 30 per person, depending on the package that you select. You need to allot an entire day for the cruise trip so that you can have an unforgettable time on the Ionian Sea.
There will be Greek music all through the day and delicious food will be available at the bar counter of the cruise. Poseidon's caves would be one of the highlights of your trip. You can either spend your day relaxing on the rocky coastline or swim in the clean blue waters. Don't forget to walk along the port promenade and relish an authentic Greek lunch in the village of Gaios. If you dig a little, then you may get some discounts too on your already-affordable cruise trip. So, add this in your itinerary now!
Aqualand:
What's next? What to do in Corfu? Aqualand is a wonderful water park that is located near Agios Ioannis village. It is a huge park that is built on 75,000 square meters of land and boasts of 600 car parking area. If you are traveling with family and kids then you should allot an entire day for your visit to the Aqualand. Some of the amazing water games that can be enjoyed in the park are lazy river, free fall, crazy river, black hole, family rafting, wave pool, and many more. Several lifeguards have been appointed to ensure that your visit to Aqualand is a safe one.
Some of the facilities provided in the water park to make your day enjoyable are sun beds, safety lockers, changing rooms, mini-market, restaurants, umbrellas, instant photo-print shop, boutique, etc. There are several entertainment spots especially for children like table tennis court, playground with some adventurous games, arcade room with electronic games, and much more. Keep in mind that the Aqualand is open only for the month of May to October, so ensure that you plan your trip to Corfu during these months to have a happy and fun day in the waters.
Asian Art Museum:
One of its kinds in Greece, the Asian Art Museum is located in the heart of Corfu and it's one of the Corfu points of interest. The museum exhibits numerous works of art from varied countries; inclusive of India, China, Pakistan, Japan, and Thailand. Some of the items that have been displayed are masks of the No theatre, Samurai weapons, sculptures, etc. The museum is open every day from 8am to 8pm. However, it is better to check their official facebook page for exact timings on the day you visit as sometimes they change the timings. There are many events and exhibitions that are held in the museum on a regular basis, which are certainly a treat to the eyes.
The Corfu Trail: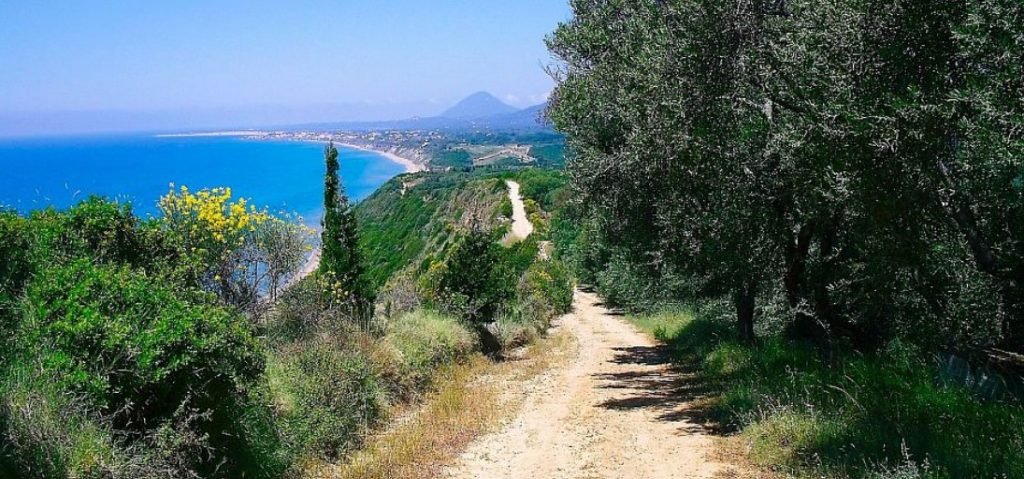 The beautiful scenery and lovely footpaths make Corfu a walker's paradise. Established in the year 2001, the Corfu Trail is a 220kms long walking route that has been covered by thousands of travelers. The walk leads to mesmerizing landscapes and untouched parts of the town, which highlights the real beauty of Corfu. Some of the areas that you would cover in the trail are olive orchards, forests, ruined monasteries, seashores, lush valley of Gardeno, beaches, sand dunes, lakes, and much more. The Corfu Trail is certainly going to be a delightful walk; so, don't forget to carry your cameras to capture these beautiful sceneries. There are different packages available for accommodation along the Corfu Trail route. Depending on your preferences, you can pick the 8 days package, 10 days package, 12 days package, etc.
How To Reach Corfu, Greece?
The Corfu International Airport is about 3kms south of Corfu town. If you are traveling within Greece, then you can book your flight from Athens and Thessaloniki to Corfu. As summers are the peak tourist season, there are many more flights operated that are connected with various Greek islands like Zakynthos and Kefalonia. The airport of Corfu also receives charters and direct flights from other countries.
You may even consider taking a ferry from Patra to Corfu, which is an overnight journey and it takes approximately seven hours. The ferry from Igoumenitsa takes one and half hours to reach Corfu. These ferries run each day until midnight. Travelers visiting Corfu from Bari, Venice and Ancona, can also consider traveling by ferry.
The most recommended way to travel within and in the outskirts of Corfu is by renting a car. There are several car rental companies in Corfu that provide cars on affordable rates. By renting a car, you can discover the island conveniently. You can even consider renting a car and getting it picked from the airport on the day you arrive to this wonderful island. Moreover, there are several local bus services in Corfu that are connected with all tourist places, so it gets easier to explore the town.
Food And Drinks In Corfu, Greece:
Your trip to Corfu would be incomplete without trying their authentic Greek food. There are so many choices for starters in Greek cuisine that you could end your meal only by having starters like Taramosalda, Melitzanosalada and Horiatiki (Greek salad). The all-time famous meat dishes of Corfu are Souvlakia (meat sticks), Giouvetsi (lamb cooked with rice), and Papoutsakia (eggplants filled with cheese), among others. For vegetarians, you could select Imam Eggplants, stuffed tomatoes and peppers, and traditional pitas, and various recipes made up with local cheese. Some of the popular restaurants that serve traditional home cooked meals are mentioned below. You should definitely try them out on your visit to Corfu!
Sebastian's Taverna: Located in Agios Gordios, Sebastian's Taverna is the finest place to try out homemade Greek dishes. Don't forget to taste their appetizing homemade wine.
To Stavrodromi: If you want to relish authentic Greek cuisine under the olive trees, then you should have your meals at the To Stavrodromi. What attracts the visitors is that only fresh local ingredients are used for cooking food and most of the vegetables used are grown in their personal garden.
Illias Taverna: The Illias Taverna is located in a beautiful area that is covered by grape vines. A visit to the restaurant would make you realize the actual beauty of Corfu. You can either place an order for your favorite dishes or select some of the freshly cooked Corfiot meals.
Alexandros: One of the oldest family-run restaurant and rooms in Pelekas, Alexandros offer innumerable services to their guests. The rooms are clean and offer several facilities whereas the restaurant serves traditional home-cooked Corfiot and Greek cuisines.
Resorts With Amazing Best Beaches In Corfu, Greece:
If you enjoy spending your time on the beach then Corfu is the right place to visit. There are several resorts that have amazing Corfu beaches and the best ones are listed below in this Corfu, Greece travel guide so that you do not have to spend much time in researching on them:
Acharavi: Located in the north-west part of the island, Acharavi is an 8km long beautiful beach. The Acharavi resort offers excellent service and modern amenities. You can select the type of room as per your preference by choosing the best one among the plethora of options that they provide to their guests.
Agios Gordis: It is situated in the heart of Corfu, so traveling by local bus or renting a car becomes easy. The peaceful apartments provide luxurious facilities and unique views to the sea or mountains. The Agios Gordis Corfu beachs is about 1.5kms long with certain areas secluded for couples who prefer privacy.
Agios Stefanos: Located in the north-eastern part of the island, Agios Stefanos is a calm and peaceful resort that is apt for all types of travelers. The beach has clean blue waters with lots of sun beds to relax. If you are an adventurous traveler then check out the water sports available out here.
Things to do in Corfu That Should Not Be Missed:
Corfu Sea Kayaking: There are several travel booking agents and online websites that offer Corfu sea kayaking day trips. Depending on the hotel or resort that you choose to stay, you can pick a kayaking trip that is nearby. The trips are open to experienced kayakers as well as first-timers. Kayaking is the best way to explore Corfu's stunning coastline so add it to your 'to-do' list now!
Snorkeling In Corfu: If you love snorkeling then you should experience one in the quiet Corfu Island. There are various packages available which cost EUR 40 and above, depending on the facilities that you choose; like 2-hour trip or 3-hour trip. You can also do that for free in any Corfu beach, just have your own best snorkel gear.
Boat Trips: Spend an entire day in the boat excursion while enjoying Corfu's magnificent scenery. You can either swim in the clear waters or relax on the shore while relishing fresh fish barbeque. Don't forget to ask your travel agent for customized and private boat trips!
San Stefanos Supermarket: Shop till you drop at the San Stefanos Supermarket! The supermarket is open on all days from 8am to midnight for the month of April to October. You can place orders online through their official webpage. They even deliver free of charge to all resorts and hotels of Corfu.
Where To Stay In Corfu, Greece?
Oasis Hotel:
Located in Perama, Corfu; Oasis Hotel offers room for travelers with varied preferences. If you are 2-3 travelers visiting Corfu together then you can select their rooms with either sea view or garden view. For a group of people traveling together, can select bungalows that provide garden/pool view or sea view. They even offer family sea view bungalows for couples. So, depending on your preferences, you can pick any room and avail their innumerable facilities like Air-Conditioning, refrigerator, WI-FI zone (not the best one so I suggest you to bring your best travel router), and sound-proof windows, among others.
Olympion Village Hotel:
A 3-star resort, the Olympion Village is located in Kavos; the southern part of Corfu. If you are looking for a simple yet luxurious stay then you should check this out! The resort is designed in such a manner that it looks like a beautiful village that has been inspired by Greek Mythology. You can select rooms from varied options that are offered like standard double room, superior double room, standard studio, two bedroom apartment, and family maisonette. Some of the paid amenities are table tennis, pool table, tennis court, darts, fax/printer, and massage chair among others.
Irene Apartments:
Situated in Agios Gordios, Irene Apartments can be the perfect choice for travelers on a budget. The apartments are about 16km from Corfu town and within walking distance from the beach. Some of the amazing amenities that you will get here are satellite television, air conditioning, balcony with mesmerizing views, safe deposit vault, refrigerator, and free WI-FI among others. After spending an entire day in sightseeing and shopping in Corfu, you can head back to your apartment and have a relaxing swim in the large outdoor pool. There is a separate swimming pool for kids too! You can order authentic Greek cuisines from the poolside snack bar, restaurant, or barbecue.
Tips On Making Your Corfu Trip Safe:
Keep your body hydrated as it is very hot in summers and usually during sightseeing, travelers get so engrossed in the beauty of the island that they forget to drink water.
Your Corfu travel guide can be your best friend when you are visiting the local areas so always keep it handy.
Pickpocket and snatching of valuables may occur occasionally, so it is advisable to stay alert especially in crowded areas.
Keep an eye on Jellyfish while swimming in the beach as they might sting you. It is recommended to get into the water only after you ensure the absence of Jellyfish.
Mosquitoes and wasps are commonly found due to the favorable climatic conditions. Ensure that you pack a bug repellent to keep yourself protected from these insects.
Things To Avoid In Corfu, Greece:
Drugs are not tolerated at all in Corfu. If you are caught possessing small or large quantities of drugs, then it would lead to huge amount of fines and imprisonment.
The locals use tap water daily for drinking and cooking. However, you can consider using bottled water as that would taste better.
Medical treatments are quite expensive, so it is advisable to pick a travel package that provides medical insurance. In case you require a medicine then there would be at least one pharmacy in the town that will be open for 24 hours, day and night.
If you are renting a car to drive in and around Corfu, then ensure that you do not drink and drive as you can be penalized for it. Also make sure you have great driving skills as it is more difficult in some situations.
While hiring a taxi from the airport or any other area, make sure that they do not charge extra amount for your trip and ply as per the fares that are shown on the meter.
In short, Corfu has something to offer for all tastes. By sticking to these Corfu travel tips, you can be assured that your visit to this magnificent town of Greece would be a successful and happy one. Keep the aforesaid tips in mind and have a safe journey!
Also you can read my own adventures in Corfu here – Holidays in Corfu